SPONSORED: Graham Robinson (pictured), manager of the Halcyon Interiors showroom, on Wigmore Street, reveals why partnering with brands that offer good service and support is the key to success
Relationships are the building blocks of business, which is why, in a continuously challenging market, retailers look to manufacturers and suppliers for increased support and commitment in order to help them develop and grow their businesses.
Having been manager of the Halcyon Interiors showroom on London's prestigious Wigmore Street – or 'kitchen alley' as its known in the industry – for almost 15 years, getting that relationship between supplier and retailer right, is something Graham Robinson knows all about.
"Halcyon Interiors started in 1981 so we're a well-established retail business with three successful showrooms," he explains. "We've had a long time to work out what we need from our suppliers and build solid relationships. As a retailer, you just want your suppliers to be helpful, supportive and easy to deal with."

But, even established retail businesses, like Halcyon Interiors – which also has showrooms in the affluent towns of Pinner and Beaconsfield – still rely on the service and support they receive from manufacturers and suppliers to help them thrive. One of the brands he credits as reliable and supportive is waste disposer and steaming hot water tap manufacturer, Insinkerator.
"When you're designing an entire kitchen the tap, or waste disposer, is only a small part of the whole project so they often come further down the planning list," he says. "Therefore, as a designer, you don't want ordering them to be a complicated process.
"We've worked with Insinkerator for years and have a great relationship with them. Aside from offering good value, quality products, they're just a really straightforward, easy company to deal with. They offer good, old-fashioned customer service. Everything arrives when they say it will and if a problem does arise they offer excellent after-sales care. It's as simple as that."
Aside from offering good value, quality products, they're just a really straightforward, easy company to deal with
Training
According to Robinson, great service is just one aspect that retailers look for in a supplier. There are other important elements, such as training and support and a strong product offering that will help cement the partnership.
"Receiving regular updates on new products and ongoing training from brands is really important – for both parties," he says. "Insinkerator are really good at that.
"They communicate well and, because of the regular training we get – here in the showroom – we know the products inside out which helps keep the brand front of mind."
Robinson also credits Insinkerator's "extensive" product portfolio as another reason why they continue to partner with the brand.
"Insinkerator's 4N1 Touch tap is a great sales story," he adds. "It's just one box, one tank and one code – which makes it a simple transaction for us, and our customers.
"They're bang on trend with their colours – in particular the Velvet Black and Brushed Gold – finishes and styles too. The range isn't limited in any way and that level of choice is exactly what consumers want. Plus, it makes our job so much easier to find a tap that fits their space.
"Insinkerator has invested in a lot of consumer-facing marketing to build awareness of the brand. That, coupled with having a 4N1 tap on display, has definitely brought more people into the showroom. We're now selling more Insinkerator products than we have before."
Support
Reinforcing its ongoing support for retailers, in 2016 Insinkerator launched the Showroom Collection. Available exclusively through kitchen showrooms, it features a selection of premium steaming hot water taps and food waste disposers with unique features, finishes and additional consumer benefits.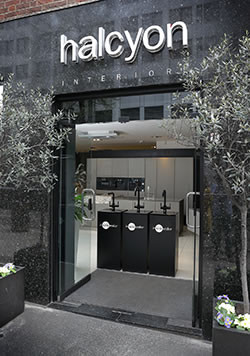 "We're seeing more and more suppliers invest in initiatives like this which is great news for showrooms," he says. "Not only does it validate and strengthen that supplier/retailer relationship, it helps give us an edge in a challenging market."
Despite some uncertainty in the retail sector, Robinson reveals that the Wigmore Street showroom, and the Halcyon Interiors business overall, is performing well leaving him positive moving forward.
"Retail, in general, is pretty tough at the moment," he says. "But, business is really good – especially considering the Brexit situation.
"There's obviously business out there, considering the number, and quality, of leads we're getting here. So, we're still really confident for the year ahead."

For more information contact: Tel: 01923 375349
insinkerator.emerson.com/en-gb