A kitchen range made entirely from sustainable bamboo is now available to eco-conscious KBB retailers in the UK.
In an exclusive interview with kbbreview magazine for its April Sustainability issue, manufacturer and entrepreneur Pete Sanderson claimed that Real Green is the world's first "fully sustainable, fully accredited" eco-friendly kitchen cabinet manufactured from Chinese bamboo – "a totally new and unique concept in kitchen furniture".
Speaking from his Derbyshire factory, Sanderson, who is managing director of The Real Kitchen Company, said: "I've always been interested in sustainability and bamboo. It grows really fast – it grows overnight! You can hear it growing."
The innovative kitchen proposition was officially launched last September and comes as the focus on environmental damage from human lifestyle and industrial processes has never been greater.
Increasingly, KBB manufacturers and suppliers are taking measures in their production processes to be more responsible with natural resources, reduce waste, use less energy and moving away from environmentally-damaging plastic packaging.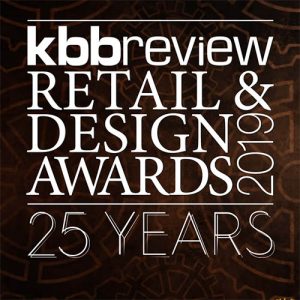 Highlighting the significance of the sustainability challenge, the kbbreview Retail & Design Awards 2019, in its 25th year, has put the issue front and centre of the event, to be held in Manchester next week.
For the first time, the kbbreview Retail & Design Awards has teamed up with three sustainability partners – Kaldewei, HPP and Used Kitchen Exchange (UKE), to run the awards as a carbon-neutral event.
Helen Lord, founder and director of UKE, said: "Since the screening of Sir David Attenborough's Blue Planet II there has been a genuine shift in the mood of the public with over 80% of consumers having changed their purchasing behaviour.
"Household brands such as Ikea, Waitrose, McDonald's, Iceland, etc, have responded quickly, despite their size and lack of agility, by making very public changes to the way they handle their waste, as well as the ethics behind the products they sell.
"There is a very clear message here, UK consumers want to feel that they are part of the solution to imminent climate change and these forward-thinking companies have capitalised on this. It makes sense that the KBB industry should be part of this.
"For everyone, there is a very obvious commercial opportunity here. The opportunity to 'do well by doing good'."
Sanderson, The Real Kitchen Company MD, said that bamboo is a "wonderful material" that is not only eco-friendly but durable, "harder than oak" and stable, "so, the outer paint finish won't crack".
The 62-year-old entrepreneur, who used to work in kitchen retail, said the cost of the bamboo added about 10% to 15% more than other materials.
He said he wanted to sell the Real Green range, which he called a "stunning-looking" product as an "exclusive" range and has commercial relationships already with about six showrooms, in London, Bristol, Christchurch and one near Manchester.
The Real Kitchen Company also produces another range, called Simple, which is a semi-in-frame kitchen at a lay-on price, but Sanderson told kbbreview that he believed the Real Green product would "take over big time" once he started to push it, and could be the focus of the business in time.
"It could end up being what we do most of. Sustainability and eco is becoming bigger and bigger. It's everywhere now."
Read more about the Real Green kitchen range, how being eco-aware can drum up sales and more on sustainability in the KBB industry in the April issue of kbbreview.