Designer Sandy Armitage of Sandy Armitage Designs was turned on to the subject of sustainability 10 years ago and has been a fierce advocate ever since
Ten years ago from my Colchester home, I was looking to make a bit of extra cash, so I rented a bedroom to foreign students for short-stay B&B.
One very pleasant French student had an assignment to prepare on his chosen subject of sustainability in the home and, as I was the designer of my new kitchen, he wanted to interview me about its sustainability and about my general client base.
He asked about all things from the manufacturers and their production processes, from how the kitchen worked on an energy-efficiency basis (AAA-rated appliances, for instance) down to the bin separation. Crucially, he asked whether my client base cared about the eco credentials of the products or the importance of sustainable materials and of waste separation. The more he asked, the more embarrassed I became, as I said "no, not really" to almost every question.
He was very surprised as the impression he had of the UK was that we were not only up to speed with the other European clean-driven nations but that we were the leaders. Blimey, I thought, appearances can be deceptive, but it seemed that he was looking for utopia.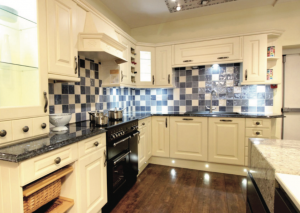 That was back in 2009 and here we are in 2019 with almost daily headlines about the impact caused by the negative effects of galloping consumerism on our fragile planet, with too many folk feeding the mouths of those pollution-creators across the globe so that we can have the latest thing for the cheapest price.
The impacts have been proven, from regular scientific revelations to Stacey Dooley documentaries. We are being told that, in no uncertain terms, we have to stop and rethink. But can we? Will we? Do the British manufacturers, importers, suppliers, designers and salespeople care enough to be focusing on the sustainability angle of the products they make and sell and do the designers consider the way a kitchen and bathroom functions sustainably?
I am quite proud to say that since that relative epiphany back in 2009, I have become a bit of an eco-fascist and during last year's industry exhibition fest at the kbb and Eurocucina/Salone del Bagno in Milan, I was very keenly asking manufacturers about their eco credentials not only on those products that were new to me, but also from much-loved products that I had come to specify as standard.
Disappointingly, I found that many didn't know or didn't know enough and at kbb specifically, I was shocked that a director of one of the award-winning British brands had no idea about the product's eco credentials.
However, I have an optimistic heart and, I admit, an idealistic one – someone has to have – but the signs are there that the way ahead is going to be sustainable, as the evidence is strong that recognising, implementing and promoting sustainability is where the smart money will be and I know I'm not the only one.
For decades, the Germans have been the market leaders and flying examples of the robust and sustainable product from the sourcing of materials to the exacting production methods, functional efficiency and beauty of design. These days, of course, the Germans are not the only ones. However, I have been brought up to value that buying better is buying wisely and leading manufacturers have marketed their products on their energy-efficiency and exacting digitalised production methods that cut down on waste and in the long term save money – and it is all about the long term.
Appliances that were built to last were the norm, even on standard brands, the materials used were metals and were repairable. My family never bought a new anything, ever. All our household furniture and appliances were second-hand, I dressed in handmade and jumble-sale clothes that had been altered and embellished on our second-hand Singer sewing machine and I rode the best-kept red and yellow second-hand chopper bike in our village.
I was brought up to appreciate and value the legacy of things well made. I have tried to be mindful about the products I have designed into schemes, helped without doubt by those high-quality independent companies I have worked for that ingrained in me a strong appreciation of quality products that I could be proud to recommend.
I was shocked that a director of one of the award-winning British brands had no idea about the product's eco credentials.
Over the years, I have winced at good quality kitchens and bathrooms being ripped out and trashed without a second thought for their relative value to others. I used to think, if only they had been more carefully removed and cleaned up, there would've been value in them. That's when the Used Kitchen Exchange ignited my second-hand flame. Proving the legacy and sustainable value of the well- made product and steering our thinking to broaden our values.
When doing my research for this article, I contacted Helen Lord, founder and director of Used Kitchen Exchange, and she summed up the way ahead, perfectly: "I am exceptionally passionate about sustainability, not just for its eco-credentials but as a marketing tool – it is utopia!"
She added: "Sustainability is commercially- focused. We are not talking about recycling here, we are talking about reuse, which is right at the top of the waste hierarchy pyramid."