The number of UK kitchens fitted in 2019 will drop for the first time since 2009, according to current projections from specialist KBB research firm JKMR.
JKMR expects total installations to fall by up to 4% this year, with a further drop in activity in 2020. This comes after installations flatlined last year.
The impact from the uncertainty around the UK's exit process from the EU is certainly one factor in this, according to JKMR director Jayne Barber, who points to its impact on stalling house prices and moving activity, which has put the brakes on kitchen buying, particularly in the mid-market.
The JKMR analysis shows that total UK fitted kitchen products market value growth, which includes integrated appliances, sinks and taps, has been slowly diminishing since 2015, when the market grew 8% year on year.
In 2018, market value grew by less than half that, while JKMR expects growth in 2019 to halve again – growing by a little more than 2%.
Barber has suggested that price rises have become a key element of market value growth, although rising customer specification, especially for worktops and appliances, is also playing a part.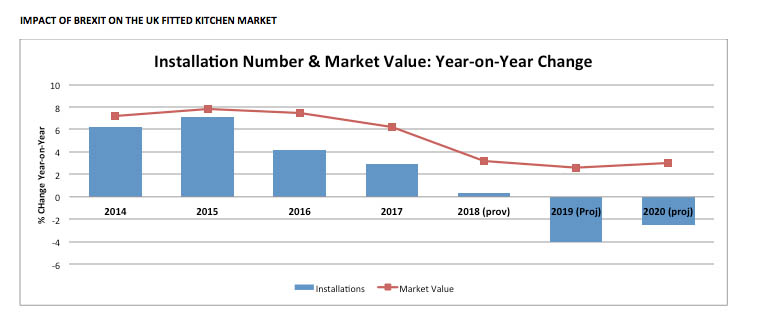 Barber expects the luxury segment – defined as a typical client spend of £45,000 and above – to mirror the overall market, with installation numbers in this category to decline this year and next.
"Volume declines (in the luxury category) are projected to be slightly steeper than the overall market decline," she said. "Overall the luxury sector will continue to play an important role in the UK market, with customers who have the funds happy to invest significantly in their kitchen."
JKMR's Report on the Luxury Kitchen Market, published earlier this year, details sector trends in installation numbers and market value over the past 15 years, as well as market share for major players.
Using a variety of available data sources, it estimates that the number of luxury UK kitchen studios had fallen in 2018, compared with the year before and predicted that numbers would fall further this year, ending 2019 at 355.
In 2017, there were 380 luxury kitchen retailers in the UK, including artisan manufacturers, solus stores for top-end brands and multi-brand showrooms.
"Luxury kitchen store growth tends to correlate to overall market buoyancy, with more dealers having the confidence to 'limit' their appeal to those with top-end budgets when economic conditions are booming.
"The market downturn from 2008 saw a fall in the luxury store base, with losses coming mainly from artisan operators. While there were some 'high-profile' casualties during this period, most companies were generally unwilling to pull the plug on stores even if sales levels were down on previous years in order to avoid the appearance of being 'on the brink'.
"By 2012, as market confidence improved, luxury store numbers were once more increasing as the high-profile luxury import brands opened new stores and the more successful artisan operations expanded to become national players through a small number of carefully located stores.
"This continued through 2013 to 2015, but 2016 saw little advance in numbers, although there was further expansion by a small number of artisan chains.
"The luxury store base then fell slightly in 2017 and again in 2018, as 'artisan designers' began to target just below luxury level.
"With the luxury market impacted by external economic uncertainty, 2019 is expected to see some business failures and/or contraction of store bases.
"Nonetheless, the luxury store base will remain well above 2012 levels, with luxury brands understanding the importance of maintaining physical stores that 'sell' the whole-house refurbishment story."