Kingfisher has said that risks to its business, particularly its retail operations, had increased as a result of the continuing lack of insight over how Brexit will pan out.
In its annual report for 2018-19, published in May, the group, which owns the home-improvement chain B&Q and Screwfix, said the Brexit-fuelled political uncertainty is increasing economic uncertainty, damaging consumer confidence, and causing exchange rate volatility.
"These issues may impact our purchase costs, including additional import tariffs and packaging costs, and our operations, including supply chain delays for the UK, Ireland and Northern Europe," the firm said in the report.
"Assuming an agreement to exit is reached, the negotiations on the future relationship may also result in further changes to regulation and operational frameworks, which may impact our ability to operate across our European businesses as we do today.
"This risk has increased due to the continuing uncertainty as to the operational implications of the decision to leave the EU and the impact on trading performance from impacts on the economy in our key markets."
The UK's decision to quit the European Union in 2016 was ranked as number six on a list of nine key risks that could prevent the company from delivering its business strategies and objectives for its forthcoming financial year.
Kingfisher called Brexit "a principal risk" for the firm, which has businesses in the UK and France.
It said: "We think the level of risk has increased due to the continued uncertainty as to the operational implication of this decision and the impact on our trading performance from impacts on the economy in our key markets.
"The risk of a no-deal outcome has added to this. We have identified possible scenarios and taken steps to mitigate these."
The firm said that a Brexit steering group had been in place since the referendum three years ago and that consisted of teams in finance, tax, the Treasury, HR, IT, legal, corporate affairs, regulation and operations.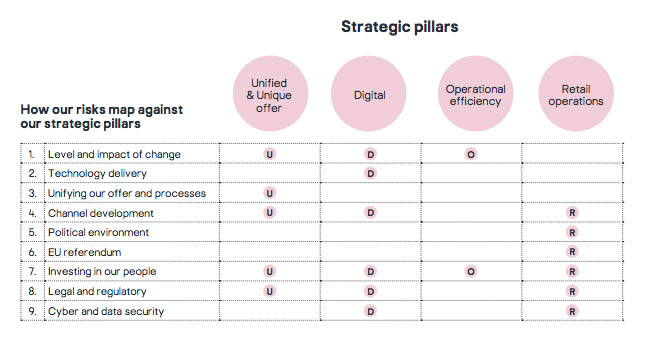 It said work had been done to consider the implications different Brexit scenarios and prepare mitigation plans across key operational areas including:
Import tariffs
Customs clearance
Vendor readiness
Product standards
Data
Kingfisher is on the hunt for a new boss after the announcement that chief executive Veronique Laury would step down.
The firm is undergoing a massive transformation to become more digital-friendly and customer-centric.
New high-street shops that would be able to help customers with home-improvement projects, including modernising an existing kitchen and bathroom, is one aspect of the company's five-year ONE transformation plan.