Blanco UK has a methodical approach to its business strategy – preparing for any scenario while making sure that its customers receive the same service. Vicki Evans spoke with UK MD Simon Hart to see how the business has grown in difficult economic times
When the market is good, you can't tell what is going on beneath the surface. As entrepreneur Warren Buffet famously said, 'You only find out who is swimming naked when the tide goes out'. In other words, it's only when times are tough that you can tell who is prepared and in a bathing suit and who is left exposed with nothing but their birthday suit.
And things have been tough since the UK voted to leave the EU. But Blanco UK certainly looks like it is swimming fully clothed – with socks and shoes. A methodical approach to business has prepared it for whatever the market may throw at it.
"The kitchen industry as a whole is going through quite a difficult period," explains Hart. "It's been tough since the Brexit vote first went through, but particularly since the middle of October.
Hard hit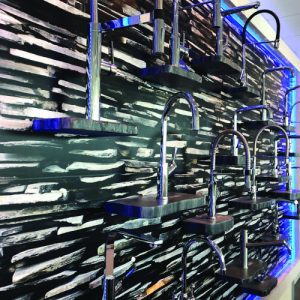 "It's hard to put a finger on exactly what the cause of that is, because on paper we should be going through not a buoyant time, but quite a good economic period. But the kitchen industry has been hit hard over the past three to four months."
Hart puts this down to a lack of confidence in where consumers are putting their money. With Brexit causing such uncertainty, a considered purchase, like a kitchen, is something consumers may be tempted to defer for a few months.
While everyone appears to be feeling the pinch of Brexit, this particular sinks and taps specialist is prepared for whatever will happen if, or indeed when, the UK leaves the EU – as Brexit has been high on Blanco's priorities list.
"We have been preparing for two years, because nobody knew what was going to happen – we still don't," says Hart. "I sat down with the group CEO to discuss how we were going to deal with it and his view was that we should prepare for the worst – as if we're going to have some terrible consequence of Brexit – at the same time hoping for the best.
"But the one thing we had to be certain on is the level of service we delivered to our customers was the same, irrespective of the turmoil that exists in the market."
Blanco formulated a 150-point Brexit plan over the past two years that covers every eventuality from increases in import taxes to problems getting products into the country.
The consensus on Brexit is 'if you fail to prepare, you to need to prepare to fail' and Blanco has looked at the business from every angle to make sure their customers receive the same service and their business continues to evolve and grow no matter the deal.
Part of this preparation has been to expand the UK distribution centre and acquire a new warehouse to make sure they can hold enough stock to meet the demands of customers. As a result of planning for every eventuality, there is an overwhelming sense of calm about the whole affair at Blanco. Hart was
certain that no matter what goes on with Brexit, Blanco UK will still be able to support its 2,000 customers and offer excellent customer service.
The brand's preparation for Brexit is impressive. "We don't take the short-term view on anything," explains Hart. "Our parent company is a large German brand that is privately owned, and they take a long-term perspective, which is reassuring for us.
"If we've got short-term issues, such as exchange rates, or if we had an overnight problem with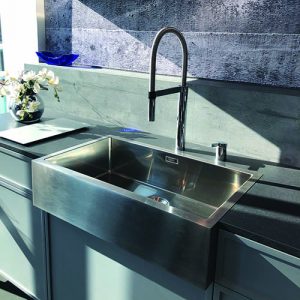 it is about how can we support our customers to make sure we don't lose any market share.
"Quite often what happens in business is that people look for quick fixes and quick things that will help them win clients. Some are successful and some fail."
Confidence
In addition to Brexit, the sinks and taps sector of the market also had the recent downfall of the Astracast brand to deal with. However, though it's often assumed that when a manufacturer goes bust, its rivals are quick to swoop in and win over their clients. In this case, Blanco weren't celebrating.
"I don't think it's good for the industry as a whole, because if a major brand struggles, it can knock confidence in the industry generally, which isn't great," he explains.
"When issues arise, or companies go bust, and showrooms are being supplied by someone who is no longer there, then we would try to see them. But there isn't a silver bullet that cures everything. We just have to try to do better going forward than those who have failed."
Throughout all the uncertainty, what can retailers learn from the companies that have gone bust? Hart has a short list of things to keep in mind: "To be honest, it is essential that people have an excellent business model that works. You need to know and satisfy your customers, have a good product, give a great level of service, manage your overheads, advertise and present yourself as best you can, and control your costs."
The end customer is always on Blanco's mind and that extends to how the products are designed. Blanco thinks of problems within the kitchen and works out how to create simple solutions for consumers. A few examples of this are the Blanco Etagon sink that has a three-tier system with movable runners to give customers more space and flexibility to cook, and the Sity XL sink that has colour-matching accessories that add more personality to a kitchen.
The designs are logical and have a function but are simple and easy for retailers and customers to understand.
Even with the new Evol-S Volume tap, which has an automatic measuring system, or the Solenta-S motion sensor tap, the purpose is not to jump on the 'smart' bandwagon, but to add functionality for the customer.
Blanco has stood firm against the rise of internet trading and the 2008 recession and has managed to work out solutions, and create opportunities. The company has been active in the UK for more than 28 years and, with its substantial planning for Brexit, seems well prepared for whatever happens next with the UK economy.
"The recession was a time when the weak were separated from the strong, and it is happening again with Brexit, which is why we are suddenly seeing so many companies failing," says Hart.
But Blanco is keeping calm and carrying on.