Good numbers for the first quarter of 2019 from the Builders Merchants Federation (BMF) BMBI Index inspired chief executive John Newcombe to say that the "overall picture remains fairly positive".
The Builders Merchant Building Index – indexed on the monthly average for July 2014 to June 2015 – is compiled in conjunction with market analyst GfK and analyses sales data from 80% of the UK's generalist merchants' sales. It revealed that for Q1 of 2019, despite the uncertainty surrounding Brexit, total market sales were up by 5.9%.
The Index figure for the total market for March 2019 was 121.6, against 112.9 last year. For kitchens and bathrooms that figure was 122.8 (against 120.3 for March 2018). Only three categories topped that – ironmongery at 125.2, plumbing heating and electrical at 131.2, and landscaping at 131.6.
GfK key accounts director Richard Frankcombe put the positive trend down to a much better start to the year from a weather perspective compared with the Beast from the East that struck in March last year.
He also said that 2019's gains were helped by a late Easter, whereas in 2018 Good Friday fell on March 30.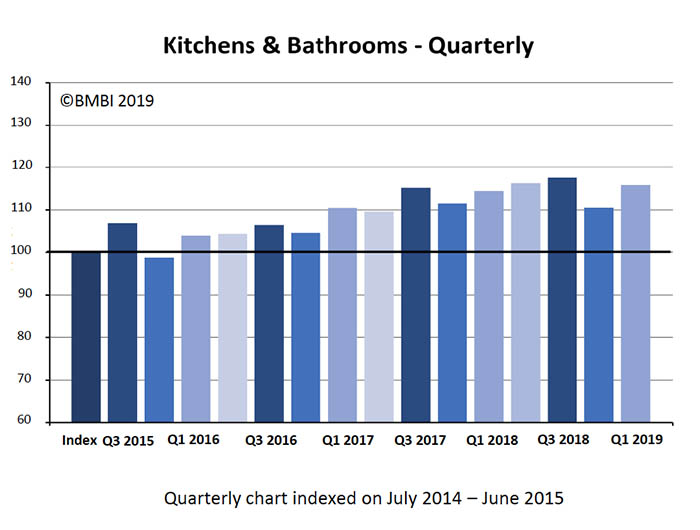 A breakdown of the figures by sector shows that while timber, joinery, heavy building materials and landscaping outperformed the average, kitchen and bathrooms were deemed as 'underperforming' with 1.1% growth, being outdone by ironmongery at 2.3% and decorating at 4.3%.
Speaking of general market trends, the BMF CEO pointed to the uncertainty surrounding Brexit, which caused the Construction Products Association (CPA) to downgrade its forecasts for UK construction activity, predicting a 0.4% decline for 2019. Indeed house prices have risen and the number or property transactions were pretty flat for the quarter.
Yet he was upbeat about the good performance of the BMBI for Q1 and Office of National Statistics figures that showed construction in Q1 up by 1% and – good news for the KBB market – private housing repair and maintenance up by 4%.
Newcombe also pointed to Federation of Master Builders statistics showing that 41% of its members were forecasting higher workloads in Q2 of 2019, compared with only a third in Q4 of 2018.
However, Lakes sales and marketing director Mike Tattam, who is part of the BMF's expert panel, sounded a note of caution over Brexit going forward. He said: "Many companies built up their stocks in Q1 to unprecedented levels to ensure continuity of supply in time for an unruly EU exit on March 29.
"But carrying and funding up to five-and-a-half months' stock, for example, in the short term is quite different from carrying it through to October 31, the postponed exit date, or beyond. Will brands unwind their stocks and rebuild them again for October, or maintain them at these levels? What will people do, and how well prepared are they for the financial after-effects? That could be the elephant in the room."