Appliance giant Zanussi joined forces yesterday with charity Cook School to help children at Downside Primary School in Luton, where Electrolux is based, get creative in the kitchen and enjoy the benefits of healthy home-cooked food.
Marking the appliance maker's 100th anniversary, the Zanussi Cook School initiative underlines the company's global commitment to "inspire and engage 300,000 children, consumers and professional to adopt better food habits by 2030.
Electrolux employees attended the event to help Cook School provide 300 children with the culinary skills they need to cook balanced, sustainable meals and to educate them on the importance of nutrition.
Children rolled up their sleeves and, with help from Cook School and Electrolux employees, made oven-baked vegetable samosas using two special portable Zanussi ovens. This was said to be a cost-effective recipe, designed to minimise food waste, which they could recreate for their at home.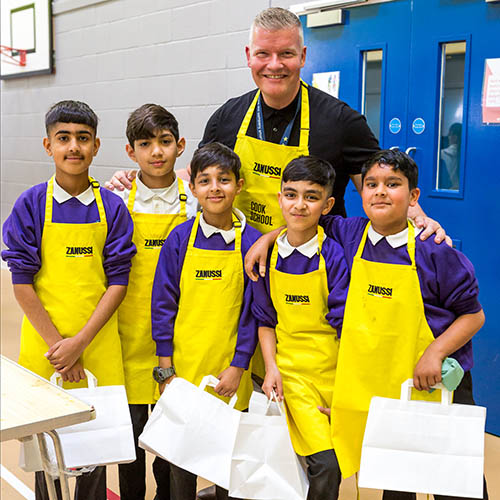 Said Chris George, UK head of marketing for Electrolux (pictured): "We know that 28% of two- to 15-year-olds in England are estimated to be overweight or obese. Research shows that children who learn to cook at a young age tend to make healthier food choices throughout their life. With this in mind, Zanussi and Cook School will team up to host weekly cooking classes to inspire better choices for children and families across the UK and in turn make a real, positive difference to childhood obesity, diabetes and food wastage."
Commenting on the partnership with Zanussi, Cook School founder Amanda Grant said: "We're delighted to be partnering with Zanussi who share our passion to make a profound and positive impact on children's lives. With the much-valued volunteers from Electrolux and mobile Zanussi ovens, we're really excited to bring Cook School classes to Luton primary schools.
"Longer term, this partnership means Cook School will reach more schools and therefore help more children and families in the UK. 2019 is just the beginning. By the end of 2020, we'll deliver weekly Zanussi Cook School classes in at least 30 schools nationwide to empower children and their families to make healthier and more sustainable eating choices."
The next Zanussi Cook School events in Luton will be held at St Joseph's Catholic Junior School on July 9 and at St Margaret's on July 12, after which the initiative will be rolled out nationwide to 10 schools by September.