Kitchens? I only wish I'd done them sooner!
How easy is it for a successful and well-established bathroom retail business to diversify into kitchens? Kbbreview visits Ivan Simpson's showroom in Pity Me, County Durham, to hear why the idea is paying off
Ivan Simpson's philosophy on life is a simple one – enjoy what you do and make some money out of it.
An industry veteran with an impressive track record in distribution and retailing, he's been on his current site in Durham since 2001 – happily making money in bathrooms. But after bringing in business partner David Burns (pictured on right with Ivan Simpson) a year later, he was persuaded to give kitchens a go – and he's now kicking himself for not doing it sooner.
"I asked David to be blunt and tell me what works and what doesn't," Simpson tells me as we begin a tour of his 4,000sq ft showroom. "He started pulling the place to bits and telling me we needed to bring in some brands. So I thought, we've got lots of air above, let's put a mezzanine in and go from there."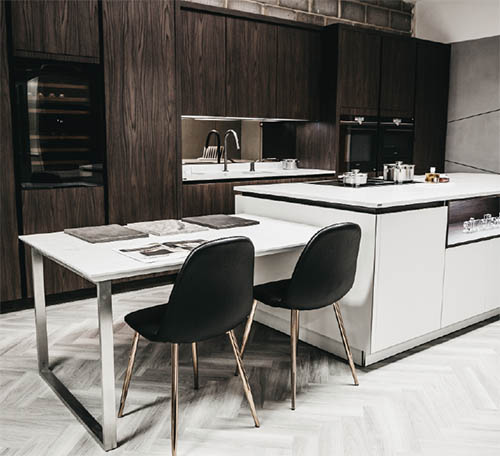 Initially, Simpson admits he was very reluctant to try kitchens, preferring to stick to what he knew best in the midst of the recession. But customers kept asking for them and by not supplying them, he realised he was throwing business away. So five years ago, kitchens finally came on board. And while the British range he chose has since been offloaded, German brand Pronorm has rapidly become a major hit with customers.
So does he regret not selling kitchens earlier?
"Yes," he laughs, "hindsight is a wonderful thing. But at the time, we just wanted to keep this place open. I looked like being the last man standing."
Crucially, the pair wanted a kitchen brand that offered something different from those being retailed elsewhere in the area, which is why Pronorm seemed an ideal addition to their portfolio.
"What most people in the North-East do is take PWS doors, or Browns 2000 or Burbidge, and stick them on a carcass," Simpson explains. "That kitchen is then sold at £2,999 and at £29,000 – the same door and carcass. So we went down to kbb in Birmingham one year and had a conversation with Pronorm."
The pair soon realised the upmarket German brand could give them the elusive something different they were looking for. But with most of their customers well into the 50-plus bracket, wouldn't a more traditional offering have been advisable?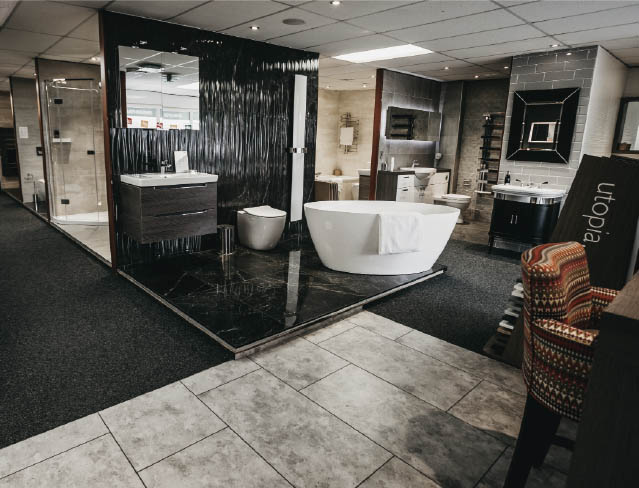 "No, it's what a lot of other people are offering," Simpson counters. "That's why Pronorm stands out for being very clean, very simple. Customers have to get their head round the fact that they're buying furniture rather than just a kitchen door. It's designed around the open-plan style of living. Pronorm isn't geared up for a shaker door. It's offered but it's not their strong point. It's the linear look."
So why did they choose Pronorm when so many competing German brands offer a similar look and feel?
"They're very innovative and keen to be one step ahead," Burns explains. "The innovation of textures and colours is very important. It's what we want and what customers want.
"At Living Kitchen in Cologne, the dark colours really came through – the golds, the browns, the marbles, the monolith idea. It's really nice and on-trend and the quality is superb. We sell Y-Line and X-Line, their premium two products with a Hettich drawer system."
Custom built
White and cream are still the most popular colours, Burns admits, despite all efforts to persuade people otherwise. But Pronorm is also proud of its ability to provide customised solutions, recently helping a customer in a wheelchair when another dealer told her he'd have to 'butcher' her furniture to make it work. By contrast, says Simpson, Pronorm can literally make anything – in any height, width or depth – "and that was the difference".
"But the biggest difference is the fitter," adds Burns. "The guys have been with us for 20 years. They work solely for us. We have three employed joiners, electricians, plasterers, audiovisual guys… Customers want a complete service from proper tradesmen."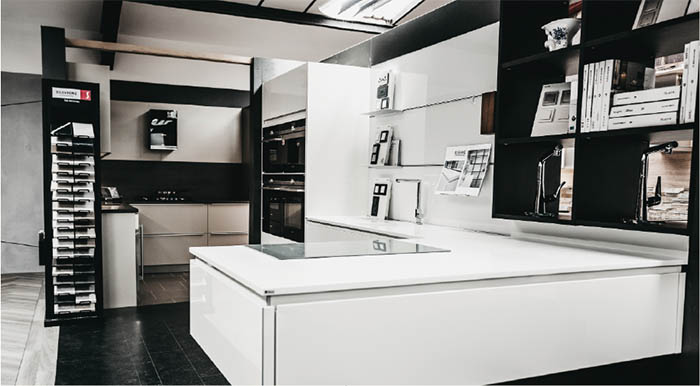 A lot of thought has clearly gone into the overall store layout. It's a constant work in progress that Simpson estimates has cost him as much as £400,000 over the years. He's coy on how this stacks up against yearly turnover – "it's just vanity, you need profit" – but says it's normally over £1 million.
Interestingly, rather than give the bathroom displays plenty of space to breathe, Simpson has built numerous small lifestyle settings along the walls, mirroring the real thing in a typical customer's house. "This is designed to be like a bathroom in a Barratt home, a semi," he explains as we come to the first room set. "It's based on the actual footprint – the size of a double bed. If you want to sell to people, you have to show what's realistic. Spark the imagination.
"The layout makes people track round the store, too – it's the Ikea effect. People have an attention span of a minute to a minute-and-a-half. You need to slow them down. Give them a good experience and have a joke with them. They're not dealing with a salesman, they're dealing with a friend."
Brexit
Despite supplying various German brands, there's little concern over the potential impact of a no-deal Brexit. Nobody seems worried about it anymore, Burns says. Now they're just sick of it."
Simpson agrees: "No matter where you are in the world, there's always trade, even in refugee camps. There might be some tariffs. But if they're too large, hopefully manufacturers will take a percentage of them. The Pronorm trucks will run all the time. It might slow things down by five or seven days, but there's already an agreement in place on transport.
"We were very reluctant to try kitchens, but customers kept asking for them and we realised we were throwing business away "

Ivan Simpson, MD, Ivan Simpson Bathrooms and Kitchens
"It's like the panic over the millennium bug. Trade can't stop. In excess of 50,000 trucks a day come into the UK. Are you going to have them stop somewhere for 10 days? It'll sort itself out, it's got to."
Like others, Simpson also rejects the idea that it's a good time to buy British, reminding UK suppliers that their components usually come from Germany or China. For the moment, he's more than happy with Pronorm, particularly as the margins are apparently so much better than in bathrooms.
"The advantage is you can't buy a kitchen like this online," he says, "so the margins are a lot better. The internet takes 25% to 30% off a bathroom."
So is the bathroom game still the race to the bottom that showroom retailers often complain about?
"It is when you're going up against the internet people," Simpson agrees. "I can't understand why they get a product with a 40% to 45% margin and the first thing they do is give 25% of it away? Then the next person gives 26% and the next 30%? I've seen some research from the economics department of Durham University that says if you reduce your price by 10%, you've got to do 50% more business. It's frightening."
Simpsons counters the impact of online by selling the likes of Villeroy and Boch and Imperial Bathrooms. He's adamant that the mid to high level is still buoyant, with people wanting a branded product over a cheap one. "They want someone to take their hand and look after them – especially on the installation side. That's now the most important thing."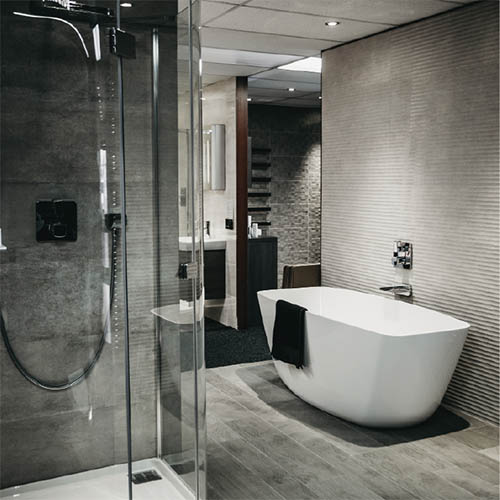 Strategy
He's also unconcerned by German websites like Reuter that heavily discount branded products. Some claim Reuter could decimate the market if they launched a concerted marketing campaign in the UK.
"But if you drill down, one of those sites only did £240,000 of business in the UK in the whole year," he smiles. "If I was in Germany sitting with a website, I would strategically buy five or six showrooms in the UK and that's my UK presence, and I can service all that at my prices.
"But they won't do that. They've got the same overheads as I have – but they work on a reduced margin. They still have a big shed, staff, delivery costs, lighting, computers. People are brainwashed into thinking it's cheaper on the internet, but nine times out of 10 it isn't.
"When someone comes in and says they've seen it on the internet, we pull the site up and have a look. You're not comparing apples with apples. They want a chrome radiator – on the site, it's cheap but it's in black. You look for chrome, it's £399, it's £25 more than we would sell it for. Usually they say, 'why am I wasting my time?' We use everyone else's site to show how we can save them money."
One big success story for the pair has been social media, and particularly home improvement website Houzz, which has apparently voted the store 'Best for Service' for the past four years. "Any social media going forward will help," Simpson says. "It's 24 hours a day. Images are important. For us, Instagram is getting one of the biggest hits, and a lot of people follow us on Facebook. They like the before, during and after photos."
Now in his sixties, Simpson will clearly be looking to pass the business on to Burns at some point down the line. "David is the new generation and I like his ideas," he says. "The balance between kitchens and bathrooms will be about 50:50. We change five or six displays every year.
"We'll just hone the business more and more whereas a lot of companies can't give you their five-year plan because they don't know if they'll still be trading. I hate people in the industry who say they're going to do £4 million next year.
"If we've got a problem, we like to solve it before moving on. We've been building this place for 17 years and when I retire Dave will be building it for another 17 years. It's an evolution."