Malcolm Scott, the WTA industry conference speaker and KBSA corporate chairman, believes shrinking UK homes are an opportunity for clever designers
When the editor asked for my thoughts on compact living, I immediately thought about the size of many of the new homes that Swift supplies appliances to, and the size of the kitchens in the student accommodation blocks that we supply.
Over the past 20 years, the size of the average new home has got smaller. This must-have huge implications for all designers and presents both problems and opportunities.
During 2011, the BBC ran some articles under the heading of 'Shoe Box Homes' based on information from a survey by the Royal Institute of British Architects (Riba), which concluded that the average UK home size was 85sq m, compared with 87.7sq m in Ireland, 115.5sq m in the Netherlands and 137sq m in Denmark. The average new home being built was just 76sq m.
A Which? magazine article 'Shrinking Homes' published in April 2018 reported the average size of a home built since 2010 was just 67.8sq m. Looking at specific house types, the Office of National Statistics (ONS) reported in 2016 that average houses in England and Wales were 104sq m, with flats averaging 49sq m of living space.
"The average UK home has got smaller which presents both problems and opportunities"

Malcolm Scott, KBSA corporate chairman
The BBC article highlighted that 70% of the buyers in the review said that there was not enough storage space in their new home. A problem or an opportunity?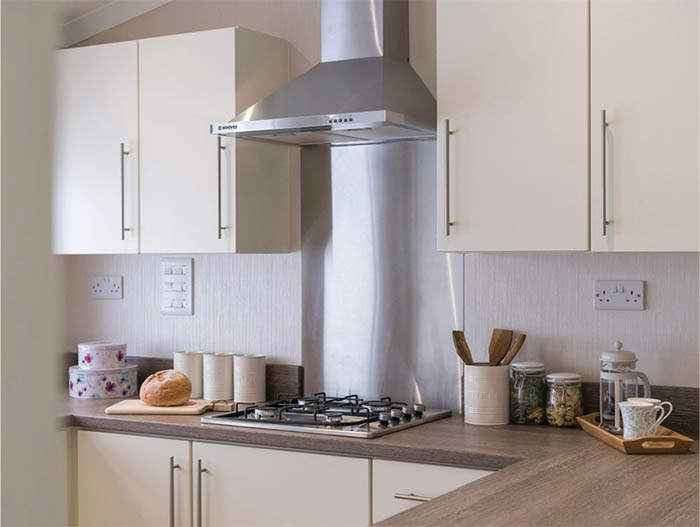 Clever design of kitchens and bedrooms can overcome this issue. If you have ever viewed or stayed in one of the park homes built by Omar, you will know that clever design can make a small home very comfortable and practical. If you have lived in one of the Fresh Student Living accommodation blocks adjacent to many of our universities, you will be aware that with clever design you can pack a lot into quite a small area.
Manufacturers have been developing ever more sophisticated, yet affordable, compact combi cooking appliances for years, so that there is no need for separate ovens, microwaves and steamers – all can now be provided by one unit. The rise in induction hob use has greatly reduced the problem of heat dissipation when appliances are very close together.
Washer-dryer technology and energy efficiency have steadily improved, with 8kg washing loads now being quite common – that is over 40% more than 10 years ago. Single oven cavity sizes have steadily grown so that the standard has increased from 65 litres to 71 litres with some brands offering 80 litres. Improved insulation leading to thinner walls on refrigeration has resulted in the introduction of refrigeration options that are the same external size but store up to 20% more food than 10 years ago.
The many 3-in-1 and 4-in-1 kitchen hot taps now on the market allow designers to free up valuable worktop space, while most sink manufacturers now offer many highly versatile compact sink options.
Add to this the huge raft of space-saving shelving and drawer solutions available from manufacturers like Blum, Hettich, Kesseböhmer and Häfele.
As property prices have increased, consumers have become more willing to spend more money on solutions that make living easier.
There certainly seems to be an opportunity here for those who think creatively.