Sixty per cent of people are happy with their kitchens but dissatisfaction starts to creep in after they are five years old.
These are just two findings from the latest Trend Monitor Kitchen Behaviours and Products Usage report surveyed a representative sample of 1,015 UK households to provide an insight into how people are using their kitchens and appliances.
Among surprising facts to emerge are that of those surveyed, 19% had kitchens that were over 15 years old, most (28%) were between five and 10 years old. Almost a third (29%) were fairly standard U-shaped kitchens and 22% were L-shaped.
And although, overall only 18% had kitchens with any form of island, analysing the data by how old the kitchen was, for those with kitchens less than six months old, 34% had an island, while for kitchens six months to a year old the figure was 41% – a drastic increase over 15% for those five to 10 years old. Demonstrating a clear rise in popularity of islands.
Contemporary and 'minimal' [modern] kitchens accounted for 65% of kitchens with just 10% traditional and 1% 'industrial'.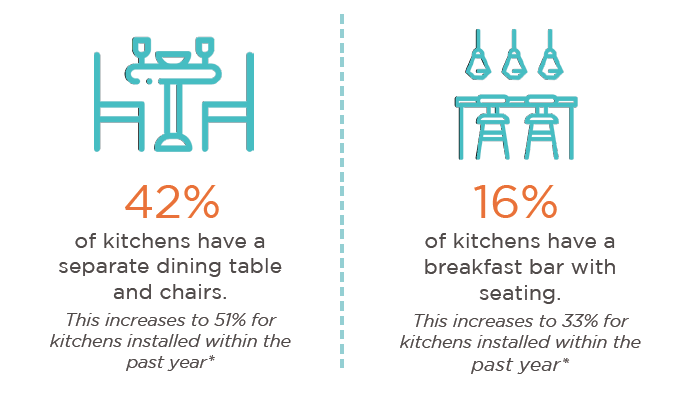 It highlighted that around £4.35 billion was spent on 1.2 million fitted kitchens during 2018. Most were sold through independent studios and Trend Monitor suggested that online sales were relatively low and likely to remain so for the 'foreseeable future'.
Data for its latest report was collected live online during 2019 with respondents from around the UK and from a variety of social groupings and household sizes and types. Most (43%) had an annual income of between £25k and £50k with 14% between £50k and £75k. The split in age was pretty even, with most (19%) in the 21-30 group and the next biggest group was 51-60 (18%).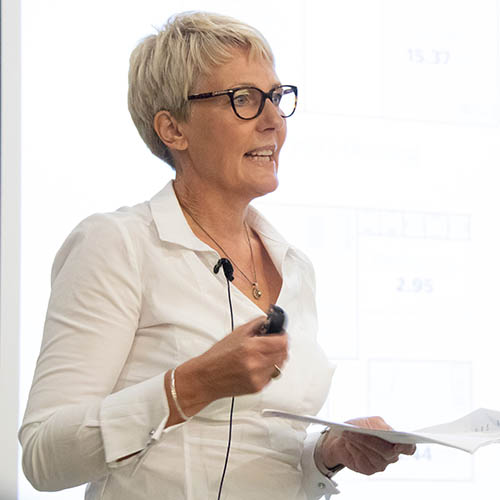 Said research director at Trend Monitor, Jane Blakeborough: "By surveying a nationally representative sample of over 1,000 UK households, the report draws on deeper insights within the data to highlight the demographic profiling behind a kitchen behaviour, track developing trends across timelines, and even cross-reference against kitchen purchasing habits from our other industry studies.
"The study format was been developed with the kitchen industry in mind; to enable kitchen product manufacturers and retailers gain a greater understanding, not only about how UK households are using their kitchens in terms of everyday behaviours, but also how they feel about the room that is rapidly becoming the centre of their homes."
Respondents were asked if they were happy with their current kitchens. Bearing in mind that 63% of respondents' kitchens were between five and 15 years old, around 60% said they were happy or very happy and 15% unhappy. The survey revealed that householders are least happy with their kitchen when it was already in the house when they moved in and that they started to become 'ambivalent' about it after it had been installed for five years.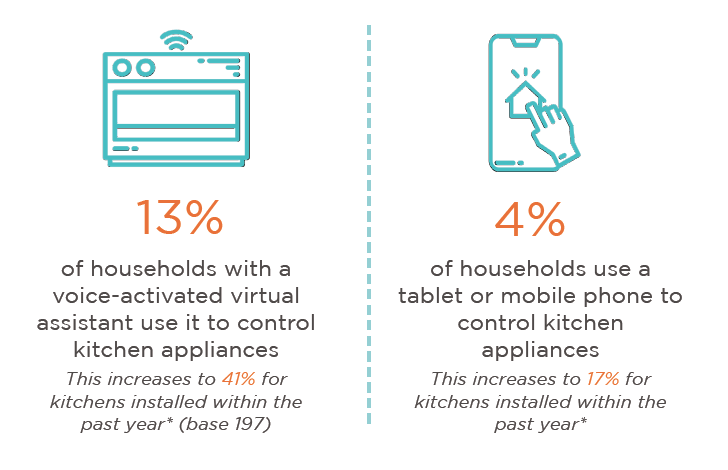 People were asked what they liked about their kitchens, and the top vote went to its 'large size and the space available' whereas only 5% thought their kitchen had been well planned. Top dislikes also highlighted lack of space and the fact that it was looking 'tired and old', suggesting plenty of scope for sales of replacement kitchens in the coming year. Next came the type of flooring (9%), a lack of storage space (6%) and their appliances (6%).
In terms of the kitchen as a social hub, 42% of respondents had a dining table and chairs in the kitchen, increasing to 51% for kitchens installed in the past year. Only 16% had breakfast bars, although that jumped to 33% in kitchens installed in the past year, as did kitchens with islands at 26% of those installed in the past 12 months.
Around 39% of kitchens could comfortably seat four people for a meal, 27% could seat six, but only 8% could handle eight.
The survey also looked at appliances. Interesting statistics included that only 7% had wine coolers or steam ovens. One-in-four ovens owned were electric, but gas accounted for 58% of hobs, while induction only clocked up 15%. But it also highlighted was that induction was a growing category, with one-in-five kitchens fitted in the past six months having an induction hob.
When it came to smart tech, 13% said they used a voice-activated device such as Alexa to control their appliances, although that increased to 41% for kitchens installed in the past year. Around 17% used a mobile phone or tablet to control their appliances in kitchens installed in the past year, against only 4% for older kitchens.