'We're the only sink and tap brand with a dedicated London showroom'
Sink and tap manufacturer The 1810 Company is celebrating its 10th anniversary with the launch of a flagship showroom in London's Business Design Centre. Rebecca Nottingham went to meet founder and managing director Gareth Williams to find out more
My visit to The 1810 Company's brand new showroom in London's Business Design Centre (BDC) coincides with the New Designers exhibition. Held annually, the show gives design graduates and businesses the opportunity to network and exchange ideas and is just one of the many regular fairs – including the Surface Design Show  – held at the centre each year.
The venue is buzzing with young and aspiring designers all looking for potential opportunities and employers and it gives me a real feel for why 1810's founder and managing director, Gareth Williams, and his team decided on this location.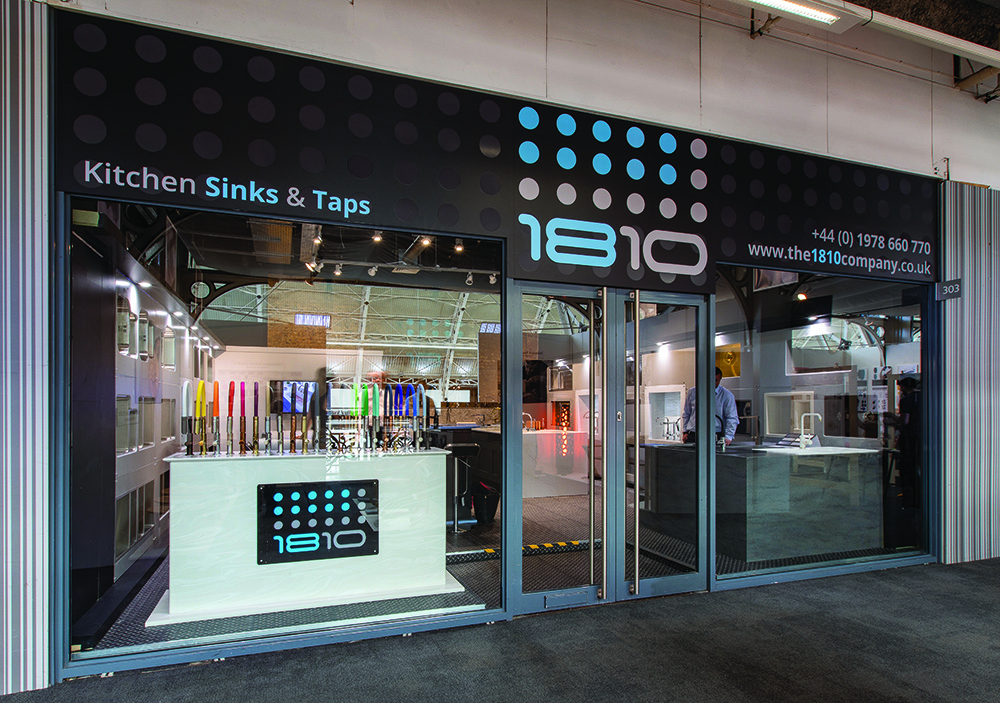 "BDC has this really cutting-edge design vibe," explains Williams. "We're looking to increase our presence in the architect and design sector, so it felt like the right fit for us.
"Also, we're a trade-only showroom – we're here to support our retailers. If we'd opened up on a high street, we would have had lots of consumers coming in asking to buy, but this way they have to know we're here."
Opening a showroom in London is a big statement for any brand – it sends out a very powerful message about the health of the business and its intentions for the future. But to make such a significant investment at a time where the effects of Brexit uncertainty are taking their toll across the industry makes this launch even more impressive.
"We [the nation and industry] are going through a challenging time at the moment for sure but, with the launch of this showroom, I hope we're sending out the right message," Williams explains. "Showing that we're willing to invest to support our retailers and the growth of our business at a time like this is hopefully the positive message the industry needs. It's a fantastic asset for 1810 and our retailers and I think we've done a pretty good job at making sinks and taps look exciting."
But, as Williams explains, there's more to the showroom launch than just purely a statement of the business's defiance in the face of Brexit. 
"At least 50% of our business comes from within the M25 but, being based in Mold, Flintshire, it's always been a challenge to get our London customer-base up to see us," he explains. "When we looked at it, to have a presence in London where we can meet our retailers regularly, train them and where they can bring their clients down to see a larger product range felt like it was an investment worth making.
"We've taken out a five-year lease on the showroom and are the only sink and tap brand that has a dedicated London showroom – that sends out a very strong message about where we are and where we're aiming to be."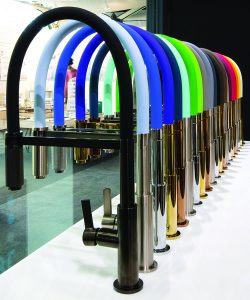 Even without the addition of its swanky new London showroom, over the past 10 years Williams and his team have achieved a great deal. Back in 2017 – having outgrown its premises for a second time – the company invested in a new HQ in Mold and, to cope with further growth, last year the company doubled its sales team – bringing the number of ASMs out on the road to eight.
"We're opening new accounts weekly, so we're doing well despite the uncertainty out there," he says. "Overall the company grew 40% last year in comparison to 2017 and a big part of that growth was down to retail studios – a sector that grew by 67% in its own right for us. We doubled the sales force last year, so there were a lot of boots on the ground and we're beating targets by 15% to 20% year on year. It's fantastic really and I'm extremely proud of everyone involved."
You can't deny that Williams – and his team – have built up an enviable reputation for 1810 over the years as one of the UK's leading sink and tap manufacturers, but what does he put the success down to?
"I launched the business after having been CEO of Teka UK for 10 years," he explains. "I knew that independents were looking for more support from their suppliers, so I set out to build a brand that would become the independents' choice.
"The appliance market was already saturated, so I looked at the sinks and taps market instead. I'd previously worked at Blanco, so it was a market I knew well and, while there were a couple of big, well-established brands at the top of the market, there wasn't one sitting strong in the middle and that's what I wanted to create."
Showing that we're willing to invest to support our retailers and the growth of our business at a time like this is hopefully the positive message the industry needs
He admits that it took a while to get noticed by the bulk of independents, with many favouring the more well-known brands. However, they picked up a considerable amount of contract work with some of the UK's major house builders – including Redrow and Berkeley Homes – which got the brand name out there in the market.
"As we developed and the brand became more well-known, the studio brand developed organically," he adds. "Independents are an extremely important, and powerful, part of this industry and we are a big supporter of them.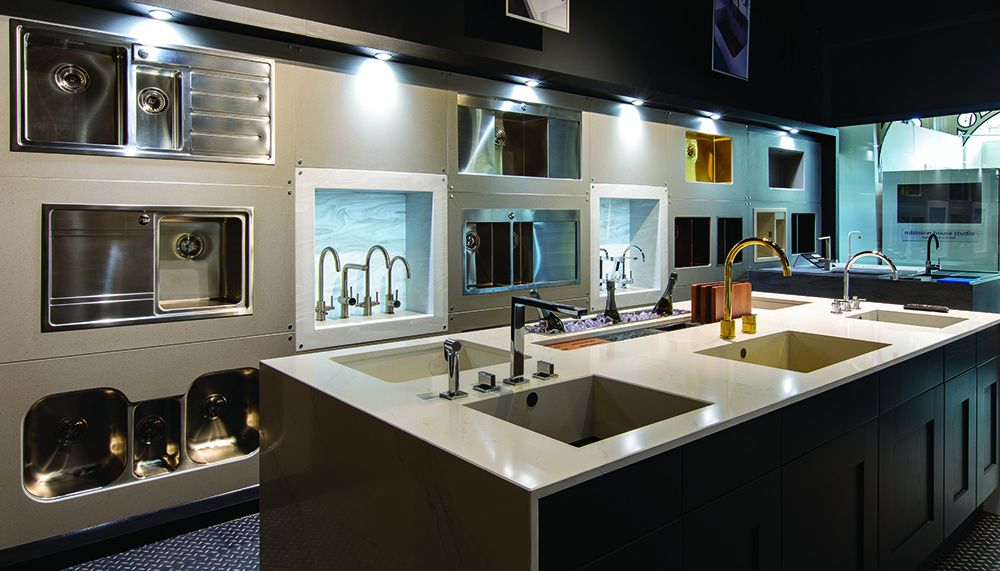 "We carry around 15,000 sinks and around 13,000 taps in stock at any time and offer next-day delivery. So, from a service aspect, everything is geared up to support the independents."
It might sound like everything has fallen into place easily but, as Williams insists, it's taken 10 years of hard work – plus his previous 20-year career in the industry – and having the right people around him to get the business to where it is today.
"The first 12 months were a bit of a slog and I went through a spell of thinking 'what have I done?'," he admits. "I'd invested all my money in the business and it just wasn't moving on. Then it just started taking off and moving in the right direction. I'm proud of where the business has come from. In the beginning, we might have got one-in-five of the sales – if it was something that no one else did – and now we're the only supplier to a lot of retailers. And that's down to having the right people on board.
"The past nine years have flown by. The business is well-established, it's solid and we're not having to sell our souls to make it grow, so we can enjoy it."
Having achieved so much in just 10 years, I'm keen to hear what Williams has in mind for the business moving forward?
"It's difficult to quantify, really. I think we've achieved what I initially set out to do, which is to become a major sink and tap brand in the UK. I just want to carry on enjoying seeing the company thrive, developing our staff and playing a part in the success stories of our retail partners.
"I live in the real world, I know there will be difficult times, but if we can achieve what we've achieved through a major recession and the ripple effects of Brexit, then I honestly am very excited to see what we can achieve in the next 10 years.
"We are now a very credible sink and tap brand out there in the market. We offer a good product at a fair price and deal with people the way we want to be dealt with –
which is respectfully."