To appeal to the buyers of the future, range cookers will need to have Bluetooth built-in, be able to talk to Alexa and cook faster.
These were among the findings when kitchen appliance specialist Stoves polled 1,000 of its UK customers who had purchased one of its range cookers in the past two years to find out what they would want from future appliances.
And buyers are getting younger, according to Stoves's survey, which revealed that 39% of purchasers were aged between 25 and 34. Only 7% were aged 55 to 64.
And the demographic for buyers is no longer an affluent one, with the average combined household income of the owners surveyed being £35,000pa or lower.
There was an overwhelming cry for range cookers to be 'faster', with more than half of respondents (52%) calling for this.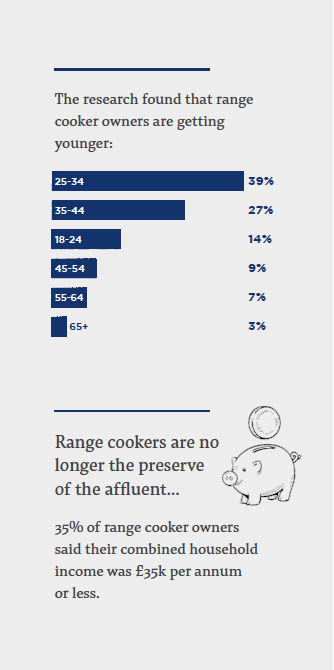 In the smartphone age, range cookers too will have to move with the times, with 77% of men 75% of women questioned saying connectivity is important.
A connected range cooker was more important to younger people, with almost half (46%) of those aged 18 to 24 expressing that preference, while 83% of those aged 55 and over said it wasn't important to them at all.
Talking to Alexa or their smartphones was a preference for 37% of respondents, with 35% liking the idea of being able to turn their oven on and off remotely.
Also high on respondents' wish lists was for their range cookers to be 'fully customisable' (26%), with many asking for removable door covers, while many (22%) also said they would like voice recognition.
And with Brexit looming, it was interesting that more than half (57%) of those polled said that they would be more likely to buy a range cooker if they knew it was made in Britain.
Good news for Stoves was, however, that of those surveyed 86% said they were happy with their current range cooker.
Commenting on the survey results, Steve Dickson, head of category for range cooking at Stoves, said: "In the past couple of years, we've invested heavily in the application of new technology to what has always been quite a traditional sector, including the introduction of Zeus Bluetooth connectivity to our Deluxe range cookers.
"This research proves that the appetite is there for further innovation and it was designed to give us an insight into what consumers are looking for from us as manufacturers. The findings have proven to be extremely thought provoking for us as a business and we hope to apply some of these ideas to future product development.
"Technology is moving quickly and the expectation amongst consumers seems to be that they want their kitchen appliances to keep up."
Addressing those who asked for connected appliances, Sarah Whitfield, product manager for range cooking at Stoves, said: "We have been monitoring the development of smart appliances closely. Consumers are surrounded by connected technology that makes their lives simpler, so it was only a matter of time before they looked to their other home appliances to follow suit. Therefore, we launched Zeus on our Deluxe range cookers, Bluetooth technology with a free downloadable app developed exclusively for Stoves that allows the user to use their smartphone or tablet to control the programmer on their range cookers. They can set the cooking duration and end time, save favourites, automatically update the clock and keep an eye on the timer without having to be in the kitchen."