With submissions for the kbbreview Retail & Design Awards 2020 now open, we are asking past award winners about their experiences. And who better to start us off than Hayley Robson, director of London KBB studio Day True – both a former judge of the awards and a previous winner?
Back in 2018, Robson entered two projects in the annual awards: Bathroom Designer of the Year in both the project cost £10,000 to £25,000 and £25,000+ categories. Cut to March and the 2019 awards ceremony and Robson is celebrating an impressive double win.
Q&A
Q: Why was it important for you to submit an entry to the awards?
A: Having previously judged the awards on several occasions, from a personal perspective, I feel it's good to enter every now and then to experience the other side of the process. From a business perspective, being shortlisted, or even better winning an award, is recognition from your peers and the industry. It's also something to promote to our clients and potential customers.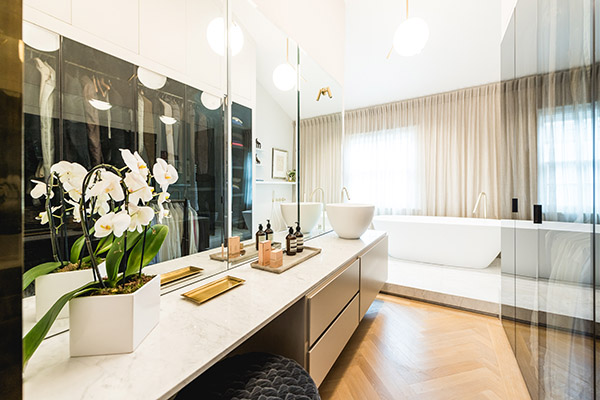 Q: Why specifically the kbbreview Retail & Design Awards?
A: The kbbreview Retail & Design Awards have been running for as long as I have been in the industry and always seem to be the busiest event in the industry calendar.
Q: Can you tell us about your experience of the judging panel – both as a judge and entrant?
A: I have always enjoyed judging the awards. It's a fascinating process, starting with the shortlisting of entries, seeing lots of different projects, ideas and how designers approach them. But the most fun part is when the finalist presents the project at the final stage. This is also fun as a finalist, as you get to really explain and translate your project in a way that photos and drawings cannot.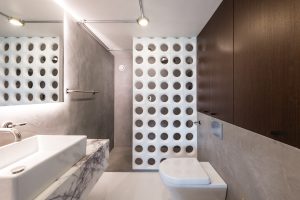 Q: Have there been any positive outcomes since your win?
A: It's amazing how many of our suppliers, reps, and even companies we don't normally deal with, have congratulated us on winning, especially as we won two awards. It certainly helps to build our brand within our industry. It's helpful when searching for new suppliers, updating our showroom displays or opening new showrooms, and asking for support when we are investing. Our suppliers are very supportive, but winning an award also helps.
Q: What would you say to someone who is thinking about entering a Bathroom Designer of the Year category?
A: I would say if you feel your bathroom design is a good example and has the potential to win, you should certainly enter. Being a finalist is really exciting and finding out you've won on the night of the event is even more exciting. Either way, it's a great experience and an opportunity to gain recognition for your hard work.
Q: And your final word on the kbbreview Retail & Design Awards?
A: We encourage all of our designers to enter the awards, as it provides the opportunity to dissect your project from start to finish, understand the thought process of the design and to showcase the transformation that has been achieved. Once a project is complete, we don't often get the opportunity to review the project in such detail and translate that to other people. The best results are born of meticulous detail and planning and entering an award is a great reminder of that. The kbbreview Retail & Design Awards process provides a platform for our industry to celebrate design and customer service achievements, which ultimately acknowledges those that go above and beyond.
Pictured: Hayley Robson collecting the award for Bathroom Design of the Year project cost £10,000. Host Steph McGovern (left) and Kudos Showering Solutions managing director Mark Hill (right).
The kbbreview Retail & Design Awards 2020 event will be held on Monday, March 2, at the Hilton Birmingham Metropole alongside the kbb Birmingham exhibition.
To find out all about entering the awards, the categories, judging process and how to book your seats and tables at the event, go to www.kbbreview.com/awards