More than 170 Trojan Baths employees gathered recently to celebrate the 90th birthday of founder Maurice Mosley.
Mosley was greeted by the staff who applauded, sang 'Happy Birthday' and presented him with a cake. After that, he walked around the 11-acre site to thank everyone. Some of the staff at Trojan have been working with Mosley at the Ramsden Mills site in Huddersfield for more than 35 years.
Mosley founded the companyin 1975 and since then the business has grown and now employs more than 170 people across three sites. The company is now led by Mosley's youngest son David, who become managing director in 2012, following the retirement of previous MD Ernie Hatton.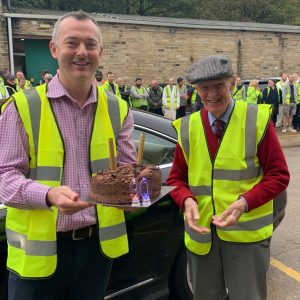 Mosley still comes into the office every day, even though he is not directly involved with the day-to-day running of the Yorkshire-based company. David commended him for his "lifelong passion" for the business and said he remains a "true inspiration" for him.
In a recent interview with kbbreview, David Mosley said: "We are a family business, so we want people to feel welcome when they visit us. Aside from the ongoing investment in our manufacturing facilities, we've invested a lot in the reception area and offices at Ramsden Mills, so it feels more inviting to guests.
"We also want our staff to know how important they are to the business and we like to try to get to know every member of staff personally. We've grown in size quite considerably over the past 10 years, which makes it more difficult, but we do try to have a good rapport with them all."
Read more about Trojan Baths in the manufacturer profile in the October issue of kbbreview.