SBID has announced the winners for its International Design Awards at a ceremony at Grosvenor House hotel in London's Mayfair.
The awards are now in their ninth year and were recently accredited as the first interior design awards scheme to achieve GOLD standard by The Independent Awards Standards Council and were commended as "exemplar in how awards should be operated".
The Society of British and International Design reported a record number of entries from 48 countries, including the UK, Switzerland, Qatar, Poland, Barbados, Monaco, Japan, Indonesia, Brazil and Australia.
There were 15 awards categories covering all aspects of interior design, including retail, public space, healthcare and well-being, residential, clubs and bars, office spaces and hotels.
Finalists were initially chosen by a technical panel of judges and the public was also invited to vote for their favourite projects, which accounted for 30% of the final marks.
The overall winner is presented to the project that received the highest score after both tiers of judges had made their choices and the public votes were counted.
The winners were:
Overall winner
Roth Architecture, Quintana Roo, Mexico
for the Uh May residence, Quintana Roo, Mexico
Hotel Public Space Design winner
Cheng Chung Design (CCD), Shanghai
for the InterContinental Shanghai Wonderland Hotel
Residential Designer over £1m winner
STA Architectural Group, Florida USA
for Palazzo del Cielo, Florida, USA
Hotel Bedrooms and Suites design winner
GA Group, London
for the Belmond Cadogan London
Residential Apartment under £1m winner
Kolomoiets-Project, Kyyiv, Ukraine
for Apartment with History, Kyyiv, Ukraine
Retail Design winner
Hyphen and Portview Fit-Out, Belfast
for LUSH Liverpool
Residential House under £1m winner
Leivars, West Sussex
for Esher Contemporary Open Plan Family Home, Surrey, UK
Public Space Design winner
Tengyuan Design, Shandong, China
for China Railway Qingdao World Expo City Conference Center, Shandong, China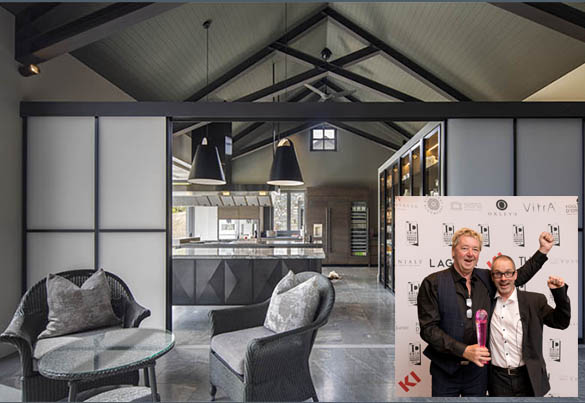 KBB Design winner (sponsored by Vitra)
Masterwood Joinery, Otago, New Zealand
for Slopehill Road, Otago, New Zealand
Show Flats & Development Design winner
II By IV Design, Ontario, Canada
for Ten York, Ontario, Canada
CGI & Visualisation winner
Angel O'Donnell, London
for The Atlas Building, London
Office Design winner
ADP Architects, Thanh Pho Ho Chi Minh, Vietnam
for Axon Office – 'Work-Space-Ship', Thanh Pho Ho Chi Minh, Vietnam
Club & Bar Design winner
House of Design by Suzy Habre, Beirut, Lebanon
for Iris, Beirut, Lebanon
Healthcare & Wellness Design winner
Diana Interiors Group, London
for The Salt Room, Blagoevgrad, Bulgaria
Restaurant Design winner
Bishop Design by Paul Bishop, Dubai, United Arab Emirates
for Torno Subito, Dubai, United Arab Emirates
Development Sales Centre winner
Matrix Design, Guangdong, China
for Gemdale Fenghua International Sales Center NanJing, Jiangsu, China
Commenting on the awards, SBID founder and chief executive Dr Vanessa Brady OBE (pictured top, on stage), said: "Each year the SBID International Design Awards continue to grow from strength to strength. With a sell-out ceremony and more countries represented this year than any other, it truly is held as the premier interior design awards by the global industry and SBID is proud to present it each year. This year's overall winner demonstrates the seriousness in which the design industry at large is taking in the environmental conservation and project procurement."