This is officially a special bonus episode! We're looking at the role product innovation plays in advancing the art of kitchen and bathroom design and what exactly constitutes innovation in the first place.
We are, as you know, supported in this season of the podcast by kbb 2020 – the biggest kitchen, bedroom and bathroom trade show in the UK – and a big part of that show is the Innovation Awards.
These are product awards that look at new developments and creative ideas in the sector and our very own managing editor Andy Davies was part of the judging panel that came up with the shortlist. At the show, which runs from March 1-4 at the NEC, the shortlist will be on display and visitors will vote on their favourites.
So the judging day seemed like a good excuse to have a chat about product innovation in general and its importance to kitchen and bathroom designers.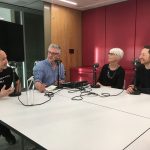 Along with Andy there are kitchen and bathroom designers Richard Hibbert (kslsudbury.co.uk ) and Colin Wong (developmentdirect.co.uk), as well as Amanda Hughes from Blum (https://www.blum.com/gb/en/)
Don't forget to subscribe to us wherever you get your podcasts to make sure you never miss an episode and we'll see you next time for the last episode before the kbb show!
Quick confession –  one of the reasons why this a bonus is because the sound quality is not as good as our usual episodes. We had some technical gremlins and so this is actually our back-up recording rather than the main recording. But there's a lot of really good stuff in here so we thought it would be a real shame not to put it up so bear with the sound, it's worth it!
Listen to the episode below: