Uform
Stand: S100
Uform (pictured) will introduce two new door styles to its product portfolio, as well as a selection of new colours and special stains, complementing the existing door ranges and colour palettes currently on offer. Visitors will also see first- hand the versatility Kitchen Stori products and how these can be cleverly incorporated into the home.
Mereway Kitchens
Stand: N140
Mereway is offering retailers the opportunity to see its latest kitchen product launch. It will be sharing its stand with the Kitchen Bathroom Bedroom Specialists Association (KBSA). Mereway sales and marketing director Mark Mills says: "kbb is one of the best trade shows, bringing together industry professionals to network and facilitate new business."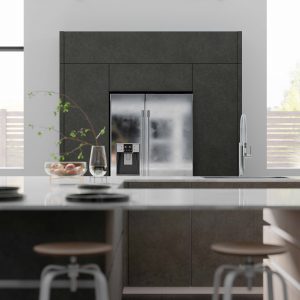 Inspired Furniture
Stand: P120
This year Inspired Furniture is showcasing "another superb in-frame kitchen" that has been designed in conjunction with award-winning designer Darren Morgan and is said to demonstrate the quality and unique selling points of Inspired Furniture kitchens.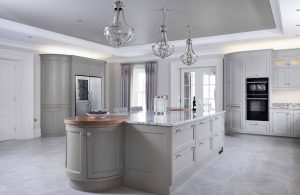 Stand: M112
Contemporary kitchen furniture brand Pronorm is returning to kbb this year to underline its ethos of premium design, quality and ergonomics. The stand will feature two showpiece displays, both new for 2020, including the X-Line handleless kitchen in organic platinum in matt texture, elegantly framed with open-grain oak in black.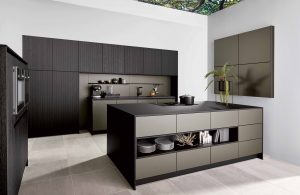 Rotpunkt
Stand: N110
The German brand is set to reveal its 'Future of Sales' for 2020 as the company blazes a n
ew trail with its hero range of 100% carbon-neutral kitchen furniture, manufactured with a zero-carbon footprint. Rotpunkt will also unveil a selection of unique metal and stone-effect doors with innovative surface treatments, pioneering colour-matched worktops and built-in light solutions.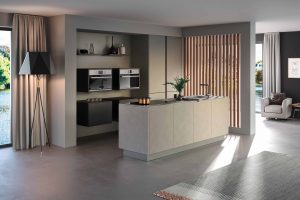 LochAnna Kitchens
Stand: M155
LochAnna is promising to "definitely make an impression" with its kbb show debut this year. The company's stand will tell the story of how LochAnna helps dealers offer affordable kitchens to attract customers, and will showcase "products and styles that aren't ordinarily seen in our sector". "It's going to be special," pledges kitchen category manager Sinead Trainor.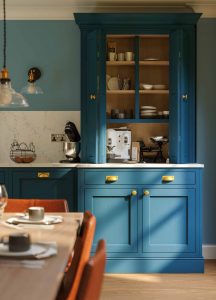 Kesseler
Stand: N120
Kesseler's new Vanquish 100 range will bring fresh design details to kbb 2020, the company says. The Nottingham-based manufacturer is also introducing a new shaker concept and an extension to its choice of colours with a "thoroughly British twist". Vanquish 100 is so named to reflect the lower plinth height of 100mm, but with the advantage of made-to-measure sizes.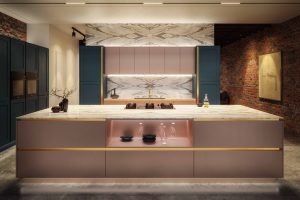 Bauformat
Stand: N116
On Bauformat's stand, visitors can expect to see products featuring natural materials, such as real stone, real wood and real leather, as well as ceramic doors, which are new for 2020. There will be a mixture of best-sellers and new innovations, the company says. Bauformat will also launch its 'Kitchen Family – Elite Dealership', incentive and reward scheme at the show.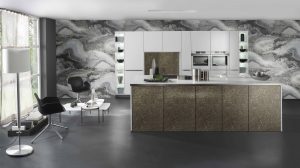 Daval Furniture
Stand: K160
Complementing its existing classic and contemporary styles, Daval's hero products for 2020 will include a 100% recycled furniture collection made exclusively from renewable materials. As well as this, visitors to the stand will be able to see its "new designer menu of colours and finishes, inspired by Nature's rich palette and home design, which is sustainable and uncompromising", says managing director Simon Bodsworth.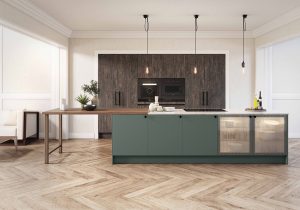 Brigitte Küchen
Stand: N115
This year's show will give German brand Brigitte Küchen the opportunity to show where it is heading. On its stand, it will showcase new veneers – promising that the world of colour comes to life with its new high-gloss RAL offering. The team are also looking forward to meeting new and existing customers and showing them the latest products.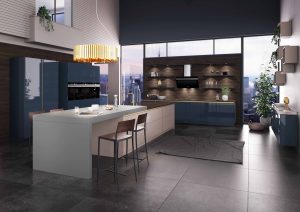 Alno
Stand: L92
Alno is showcasing several new ranges at this year's event, including AlnoSpace (pictured), Shaker, Art Pro and Alnocera. Michael Spadinger, head of global sales, comments: "We are pleased to present our new products, Alnospace and Tailor concepts, which facilitate customisation and allow for greater individualisation and increased flexibility."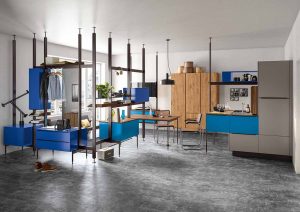 Nolete Küchen
Stand: N90
Visitors to Nolte's stand will not only be able to explore the world of kitchens, but will also be taken beyond the hub of the home to adjoining areas – flexibly designed from an extended furniture range catering for the demands of all tastes and budgets. The 2020 collection includes almost 200 frontal variations, with many additional handleless options.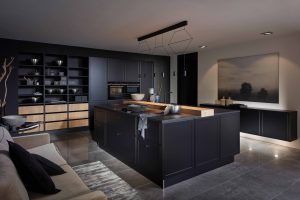 Elfin Kitchens
Stand: Z100
Elfin Kitchens is making its debut at the kbb show this year. It will present its range of compact, pre-built, robust powder-coated and stainless- steel kitchens. On display will be a number of Elfin's Pre- mium kitchens, boasting excellent cooking and storage facilities and features.