IDS
Stand: M150
Interior Door Systems will demonstrate its new products and designs for 2020, including the latest 36mm shelving for its bespoke walk-in wardrobes. Alongside this will be new LED-illuminated glass doors that the company hopes will encourage all designers to see that you can really push the boundaries with what can be achieved with sliding doors.
Getley
Stand: K165
Getley is excited to announce the launch of a complete new range called Alku. From the range, it will showcase bedroom furniture, home-office furniture and promises some clever storage ideas for lifestyle furniture, as well as a new kitchen collection. The company says it hopes to show that Getley UK is far more than simply a cabinet manufacturer as it moves forward with the new brand.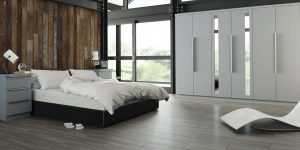 JJO
Stand: M140
The furniture brand is presenting its new Holcombe Bedroom Furniture range for the first time at this year's show. In addition, JJO has new pieces within its Eco Bathrooms furniture brand and additions to Moderna Kitchens. The brand anticipates that kbb 2020 will accelerate display sales of Holcombe bedrooms, and other new products, presented at the exhibition.