Virtual Worlds
Stand: F100
Launching at kbb 2020 will be the Virtual Worlds 4D Theatre self- service display. Using this software, the customer can choose a style using its new user interface and, once immersed, will be free to select good/better/best product choices. So, rather than losing custom because of a lack of choice, the company says retailers can finally appeal to all of the people, all of the time and enjoy a showroom without limits.
ArtiCAD
Stand: M80
ArtiCAD is showing off its entire portfolio of products at this year's kbb show and taking centre-stage will be its VR solution. Now with the option of using the affordable Oculus Quest, this allows users to deliver a high-quality immersive experience on a wireless headset. Also new for kbb 2020, ArtiCAD will be showing the very latest pricing, ordering and business management solutions.

Compusoft
Stand: L94
Compusoft will present an updated and improved Winner Design 12 with a new, modern interface and features that take the user from design to quote to order in minutes. It will also show the latest version of EQ Software, which features a brand-new interface, as well as Innoplus, its bathroom design software package. In addition to these three core programs, Compusoft will be offering visitors a glimpse of some of itsnew developments set to be released this year.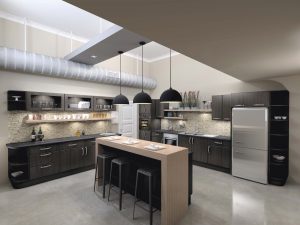 2020 
Stand: N80
This is a very special year for the CAD software specialist 2020 Technologies and the company says it wishes to make its customers' year, too. The brand will showcase 2020 Fusion, its feature-rich CAD package, and 2020 Ideal Spaces, its cloud-based 3D space planning solution for retailers.