German manufacturer Baumann, which is the parent company of kitchen brand Bauformat, has launched its bathroom furniture brand, Badea Bathrooms, to the UK market at kbb Birmingham.
The company has been selling its bathroom range to the German market for 20 years and has now expanded this category into its export markets, which includes the UK.
Dirk Kleykens, export manager UK for Bauformat, said: "We have been doing bathroom furniture for at least 20 years. We already have our two kitchen brands, Bauformat and Burger, but then there was a third brand that was the bathroom furniture. In the past, it was always for the German market and not for the export market."
The launch into UK bathroom category coincides with the launch of a new bathroom range. The company is showcasing its new range at kbb Birmingham that will be available for the UK and German markets.
Kleykens said: "We decided to export the bathroom furniture as we saw a big demand for it. In the UK, you have kitchens, bedrooms and bathrooms. They are separate industries but they are also all together.
"In a lot of other countries, kitchens and bathrooms don't go together and they are separate but, in England, there are a lot of KBB dealers."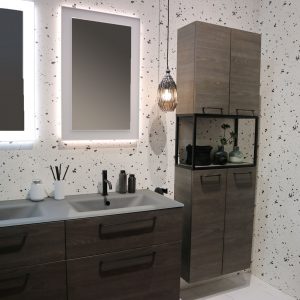 The range can be customised and be used in conjunction with other bathroom products like brass and sanitaryware. The vanity units have the choice of Bauformat's own sinks and come in a range of sizes and drawer combinations.
The furniture range comes in a variety of textures and styles and has the same sleek and modern design as its kitchen range.
"We have a lot of drawers and doors from our kitchen range and when you have a door type there is a carcass that can go with it. If the door is high-gloss then the carcass is high-gloss. It has a dark grey back that matches the inside of the drawers," Kleykens said.