Retailers must adapt and evolve to compete against the ongoing threat of online dealers, according to Virtual Worlds managing director Nathan Maclean.
Speaking to kbbreview from its stand at the kbb Birmingham show 2020 Maclean insisted that, despite the growth in the online retailing channel, the traditional bricks-and-mortar KBB showroom set up can still be successful, if retailers embrace change and consider investing in new technology in order to offer consumers a new type of experience.
"The traditional showroom isn't dead – retailers just need to evolve and consider offering their customers a new type of in-store experience," he said. "The challenge that a showroom retailer faces is that the world is changing. They are not only competing with the internet where there is an abundance of information – and experience is the trump card that retailers have over that. That's the showroom retailers' biggest selling point.
"Some people see change as a threat but, retailers need to adapt to survive. If you don't explore new ideas and go outside your comfort zone, you're not really doing what you should be doing."
He urged retailers to consider making their showrooms a much more immersive experience for consumers by investing in business tools like the Virtual Worlds 4D Theatre technology.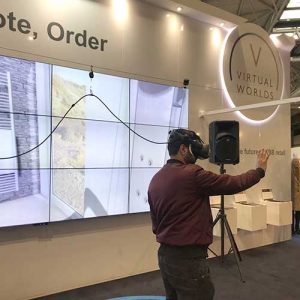 "We see this [4D Theatre] as becoming an industry standard," Maclean said. "I'd go as far as to say that we see a future where the end consumer would see it as an unacceptable risk to buy a kitchen or bathroom any other way.
"This kind of technology can completely change the sales story for the retailer and not only gives them an edge over the competition, but gives their clients a completely personalised, interactive experience which enhances their overall sales proposition.
"This is the most persuasive selling tool on the market. It's the difference between getting a postcard compared to being on the holiday and that's what we're doing. We're allowing people to experience their future lifestyle and have the peace of mind, risk-free way of making decisions about their projects."