Kitchen design icon Johnny Grey explains the principles

of multigenerational space planning and why this growing sector should no longer be overlooked.
Q. You've become an advocate for multigenerational living. What is it about this field of design that really interests you?
A. I've been working very closely with Professor Peter Gore – from the National Innovation Centre for Ageing (NICA) at Newcastle University – and accessible kitchen designer Adam Thomas, over the years. It started with a conversation about how we change the language around disability and ageing and how we then communicate that through design and create solutions that change lives. The thought being that if you use the phrase multigenerational and you stop using the word disability, you're almost enabling people to see themselves in a positive light.
Ending the stigma is crucial and if we don't get the language right, we can't do what we want with design and the result of our discussions is the
term 'multigenerational'.
Q. So what does multigenerational mean?
A. It means something that is designed to meet the needs of the ageing population and can be used comfortably by people of any age and ability.
For example, as you get older you shrink, and obviously, children also have height restrictions and there is a huge variation in people's flexed elbow heights. So, one of the key considerations in a multigenerational kitchen is having worksurfaces that suit everyone's needs. One of the very first kitchens I ever designed actually featured worksurfaces at 700mm to 750mm high. These were designed so that children could comfortably use the surfaces but, there was also enough space that you could also get a wheelchair underneath. That's a great example of multigenerational design – a space that considers the needs of everyone who may use it.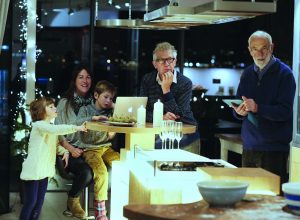 Q. Why does the KBB industry need to be more aware about this sector and the need for a different approach to design?
A. People are living longer and that is, therefore, creating a demand for kitchens that appeal to, and meet the needs of, that audience. Because of the rise in house prices, we're seeing more and more families pooling resources together to buy property and, these days, it's not unlikely to find three generations living in one house. So there is a serious need for change in the way we approach kitchen design for the ageing population.
The NHBC Foundation commissioned research that shows the need for 125,000 homes to be built every year. The Cambridge University Study is an authoritative account on multigenerational living and explains the rationale and background data. When asked, 60% of respondents were open to the idea in the future. There is scope for more intelligent thinking, and I see a real opportunity here for kitchen and bathroom designers.
Q. What does the industry need to do?
A. This is about turning design on its head – understanding ergonomics and creating a multipurpose space that any member of the family can use comfortably. It's nothing radical, it just requires a different thought process. For example multiple work stations, small and well placed, ideally with eye contact. What's great is that there are lots of existing products out there in the
KBB market that already answer some very
specific needs.
I truly believe that designers in this industry will benefit from having a better understanding of multigenerational living. So much so that, all third-year Kitchen Design Degree students do their last project in this field. I've done a lot of work on this in kitchens, but I'm also keen to take this thinking into bathroom design too.
We absolutely need this industry to start thinking seriously about this aspect of design.
The 4G prototype kitchen project
Q. Tell us more about the multigenerational kitchen project you've been working on with the National Innovation Centre for Ageing at Newcastle University?
A. The brief was to develop a four- generational kitchen as an aspirational response to longer lifespans and the growth of multigenerational living worldwide.
The project itself is as much about the social experience of being in a kitchen as it is multigenerational living. Being unable to cook and eat for yourself means you need to move into a care home, the psychological consequences of which are damaging and miserable.
It's still in concept stage, but I've looked at ways to change people's behaviour and how they use their kitchen. So, we've included technology that will help prevent accidents – such as a hob that will automatically turn off if left on for too long and smart locks on the knife drawer. Elements that would suit families with elderly relatives and children living in the same home.    
At the centre of the kitchen is an island that has been designed as a 'working table'. You can alter the height of the table to change your behaviour and how you use it. The kitchen will be wheelchair-friendly but also, as some people might need to sit down while they prepare food, I've designed a stool that fits into the island when it's not in use.
My design philosophy is about making people feel comfortable. To do that people must identify with being in the kitchen for emotional reasons – it's not just about the action of cooking a meal, it's about feeling relaxed as well.
• The 4G prototype kitchen will be on display at the National Innovation Centre for Ageing in Newcastle from May (date subject to change)