Smallbone has revealed the first look at its new 15,000sq ft flagship Knightsbridge showroom. kbbreview caught up with Ron Shemesh, chief value creation officer, at parent company Lux Group Holdings Limited.
Q: What kind of investment have you put into the showroom?
A: The process of acquiring a bespoke Smallbone product will be redefined as we set a new bar for high-end luxury retail at our new Brompton Gate showroom. Our clients will enjoy a multi-sensory experience at our new 15,000 sq ft space, where technology, art, interiors and hospitality will surprise and delight our guests at every turn. Our £15m investment in the showroom remains on track and will grow as we add to our luxury offering over time. We have exciting plans to develop our products, our brands and our partner collaborations. At Brompton Gate you will always discover something new.
Q: Can you detail the social distancing plan? How can you achieve the health and safety aspect while maintaining the luxury experience?
A: The safety and well-being of our guests and employees is paramount. We have remained responsive and proactive during the development of the showroom, making adjustments throughout to ensure our new location adheres to expected social distancing guidelines whilst maintaining an elevated luxury experience. From appointment only, touchless entry to generously spaced product displays and a continuous hygiene programme, we remain dedicated to ensuring the comfort and confidence of our visitors.
Q: Do you have plans to roll the new showroom concept and products across other sites?
A: Our Brompton Gate showroom in London's Knightsbridge will remain as the exclusive destination for Smallbone in the UK. Later this year we will open a further Smallbone showroom in New York at 88 Madison Avenue. This new location will reflect the same high-end luxury ethos of our London space, with exceptional design, innovation, likeminded brand partners and elevated hospitality as key elements.
Q: What kind of events are you planning to hold?
A: We will hold an exciting series of events at Brompton Gate to entertain our valued Smallbone clients and welcome new clients into our world. Our vast space over four floors presents almost unlimited possibilities for entertaining and the added element of a dedicated Omakase will provide a truly memorable experience. Our brand partners will work with us to develop a programme of exclusive moments throughout the year including product launches and once-in-a-lifetime experiences.
Q: Are there other such flagship showrooms planned for the other Lux brands?
A: Plans for our other Lux brands will be announced in due course.
The Icarus Collection
The Brompton Gate showroom will house the new Smallbone collection 'The Icarus Collection'
Here's how it's described by the company…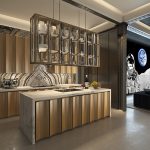 "With parabolic curves inspired by the wings of the mythical Icarus, crafted in the legend by his father Daedalus, the collection is crafted in a handsome grey cerused oak with a white bronze treatment. Comprising kitchen islands and standing furniture, hidden rebate handles bring ergonomic ease to the elegant curved doors.
"The Icarus Collection's elevated glass cabinet makes for an extra special centrepiece, with arcs formed in traditional 'slumping' techniques that see the glass shaped at high temperatures over curved moulds, a process that dates back to Roman engineering."