Samsung has today unveiled new refrigeration, cooking and laundry appliances in a special 'Life Unstoppable' European launch presentation.
The company acknowledged that with people eating, working and entertaining more at home, appliance technology needs to keep pace with that.
Said Benjamin Braun, chief marketing officer at Samsung Europe: "This year has seen us completely re-evaluate our relationship with technology, in a way that no one could have expected. At Samsung, we not only embrace these changes, but aim to stay one step ahead – already innovating with the future in mind. We are relentless in our mission to create bold, revolutionary technology."
Products showcased included the RB7300T fridge-freezer with SpaceMax technology and a customisable Bespoke refrigerator. In laundry, it unveiled the WW9800T washing machine and DV8000T tumble-dryer with smart features and auto-linking capability, plus the new Infinite Dual Cook Steam oven.
The no-frost RB73000T (pictured above) offers a large overall capacity of 385 litres in three height options. Its digital inverter compressor is said to adjust to the fridge contents, using up to 50% less power, while its Metal Cooling technology is said to keep food fresher for longer. The Optimal Fresh drawer can be divided into two zones with different temperature settings in each. There is also a Humidity Fresh drawer, which is said to extend the useful life of food. It also has a flexible multi-use racking system and a two-step foldable shelf.
The RB7300T is said to maintain optimal internal cooling irrespective of the outside ambient temperature.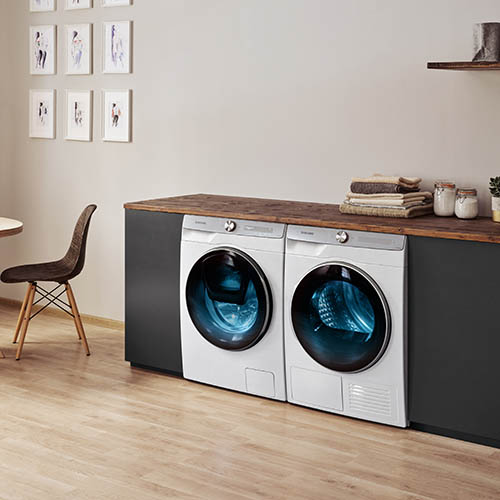 The Bespoke Refrigerator, which will launch first in the Nordics region in October and across the rest of Europe later, is a modular design that can be customised with various materials and colour options so that users can put their personal stamp on the product and their kitchen. It also has a Flex Zone that can be used either as a fridge or a freezer.
In its new Infinite Dual Cook Steam oven, the company claims to have taken the technology to the next level. It can cook dishes at different temperatures at the same time, and also steam cook in the bottom oven while baking in the top cavity. This means it can steam fish and bake bread at the same time – all with minimal cross-contamination of smells and flavours.
The WW9800T washing machine and DV8000T tumble-dryer are designed to talk to each other so that the tumble-dryer can automatically set itself to a cycle that matches the wash load.
The WW9800T washing machine also allows the users to save their own personal wash programs and uses artificial intelligence to learn the preferences and washing habits of users and recommend the best settings for them to use.
Its built-in AI uses four sensors to determine the weight and soil level of the wash, while the machine's Quick Drive technology is said to reduce wash times by up to 50% and energy usage by up to 20%. It also features Samsung's EcoBubble system to better mix the water and detergent and ensure a gentler wash. Meanwhile, its Hygiene Steam option is said to reduce bacteria and allergens by 99%.
The DV8000T heat-pump tumble-dryer is rated A+++ for energy efficiency and communicates with the washing machine to set the ideal drying cycle for the load. It and all of the other appliances mentioned here can also be controlled from a smartphone using Samsung's Smart Things app.