Juan José Benavent, CEO of Spanish shower tray specialist Acquabella, reflects on how he steered the brand through one of the most challenging events the world has ever experienced
At the height of the Covid-19 pandemic, Spain was arguably one of the hardest hit countries in the world.
That the country went into complete lockdown just a week after this industry experienced the highs of a successful kbb Birmingham show, makes the fast-paced, cataclysmic effects of the virus even harder to grasp.
The way events played out in Spain and the impact they had is best described by the head of a brand that was there to experience it all firsthand. We talk to Acquabella's CEO Juan José Benavent about the affect of the pandemic on the industry globally and his future plans for brand in the UK.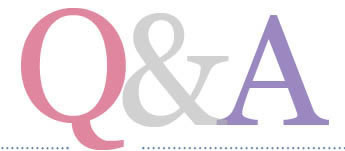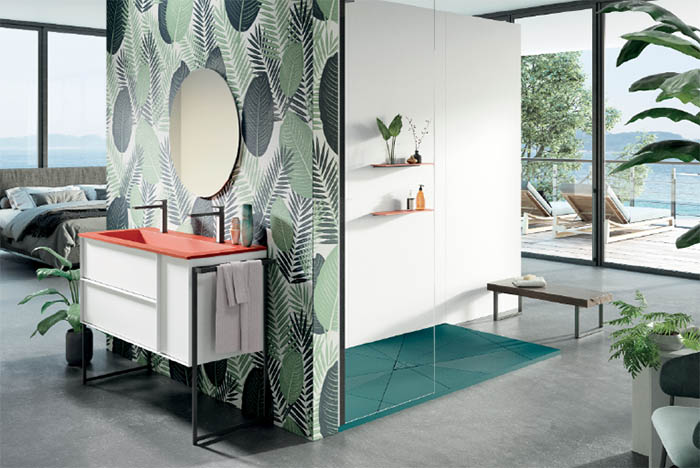 Q: How did the pandemic directly affect Acquabella?
A: Spain went into lockdown just a week after our successful appearance at the kbb Birmingham show. Luckily, the area where we are based was one of the less-affected regions of Spain. However, as a business, we were still forced to make some very difficult decisions.
Due to government restrictions, we closed the factory for two weeks. Rather than stand still, during that period we decided to support frontline health professionals in the fight against the virus. We used our 3D printers to make masks and certified health protection materials, which were then distributed to health authorities in the areas of Spain worst hit by the virus.
For an extended period, we also donated 3% of the sales of our award-winning Smart Quiz collection to charities fighting the pandemic in each country we operate in.
From a business perspective, we reacted quickly – setting staff up so that they could work from home, where applicable. This meant we were able to continue to give commercial and technical support to consumers and retailers throughout lockdown. This also meant that, once restrictions eventually began to lift, we were able to establish a plan to restore production and incorporate departments following the strictest security protocols.
Q: How has Acquabella supported its retail network?
A: We have been committed to supporting our customers throughout the pandemic and worked with our partners to ensure that we were supporting them in the best way we could. We maintained a level of service and communication that I think was key for any business operating through such a challenging period. We stayed visible on social media and tried to spread positive and realistic messages throughout the difficulties. We also made sure we let our customers and suppliers know exactly what we were doing at every stage of the pandemic.
I have to say that I've been really impressed with the positive attitudes and the resolve that the KBB community has shown during such a difficult situation.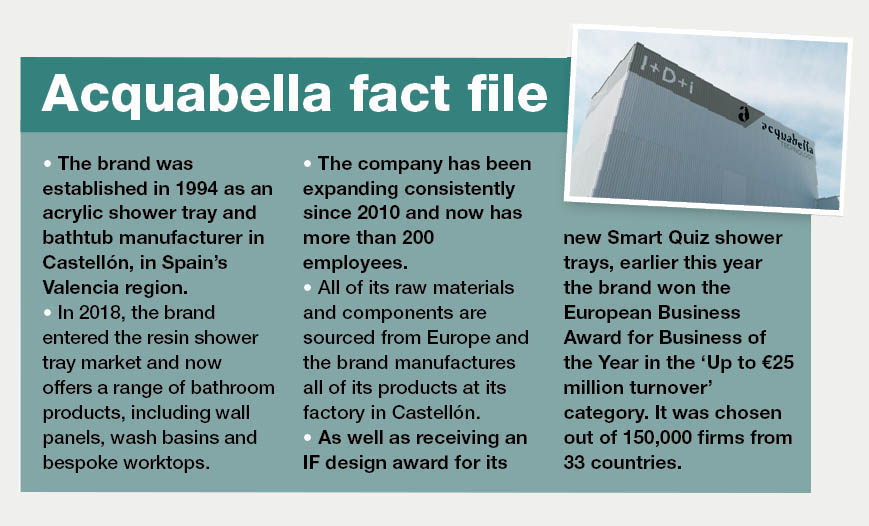 Q: In light of the financial impact Covid-19 has had globally, how do you see the future for the KBB industry? 
A: The pandemic has hit the world extremely hard and has posed new challenges for all industries, including ours. I strongly believe that from this, opportunities will still emerge and that, to survive, businesses – and by that I mean retailers and manufacturers – must take advantage when they eventually present themselves.
I think that we will continue to see a stronger sense of community and, as a part of that, we'll see collaborations at all levels.
Q: How is business in general for Acquabella at the moment?
A: Despite the uncertainty caused by Covid-19, business is good for Acquabella. We are the leading shower tray brand in Spain, France, Italy and the majority of the 44 markets we operate in. The other side of that positive is that there are still whole countries, like Germany, where the adoption of our products is still in the very early stages. We are confident that there are still good growth opportunities out there for us.
Q: What are your objectives for the brand in the UK specifically?
A: The UK is becoming more and more important to our global turnover. We've been in the [UK] market for eight years now and, thanks to our design credentials and enhanced product offering, we have maintained a strong position. However, there are further growth opportunities for us here, because the UK still has a relatively low adoption of resin shower tray products like ours.
We already have a wide network of UK customers, but are looking to establish even more long-term business relationships with retailers. Our aim is for Acquabella to be recognised as "the reference brand" for shower trays, as we are in Spain, France and Italy.