The Close To Home initiative is designed to get consumers to consider their local design experts first when thinking of a new project. It's all the idea of Kitchens Bedrooms & Bathrooms magazine, so we asked editor Lindsay Blair to tell us more
Q&A
Q: Can you explain a little more about Close To Home?
A: It's a brand new initiative brought to you by Kitchens Bedrooms & Bath-rooms magazine and its spin-off website thesethreerooms.com and, in a nutshell, it is there to showcase the amazing work of independent kitchen, bedroom and bathroom design specialists up and down the country.
Our readers are setting out on a journey to create their dream home and dream kitchen, bedroom or bathroom and there's a lot of decisions to be made for those projects.
It's one of the biggest investments they're going to make and it's potentially a huge undertaking, so the right expert is absolutely key. The whole campaign is about encouraging consumers to think locally and to go down their local high street and see which retailers are actually close to their home. That's where they can engage a designer who knows the local community, understands what's going on in the area and has the expertise and knowledge of years in the business to actually help their vision become reality.
Q: Why is Close To Home such an important thing to do now?
A: I think now more than ever people want to operate and engage with people who are close to home in their local communities so they don't have to go very far to get what they need. But I think we've also realised during lockdown that our homes are absolutely critical and how we live is changing and we need our homes to reflect that. So to get that design right, you need experience and you need the personal touch.
And that's what a lot of local independent businesses have, they're just down the road, they can have conversations over a cup of tea with you, or have video calls if you want. You can build that personal relationship over many months of a project and get to know them on first name terms. I think that's the beauty of a local business, it really feels part of the community and therefore will become part of a consumer's project.
Q: How does it all work?
A: Through the Close To Home campaign we're going to actively encourage and advise the readers of Kitchens Bedrooms & Bathroom magazine and thesethreerooms.com to look at their high street, look in their local area and find their perfect local independent retailer.
We have a directory on the website where they can find their local independent retailers and there's a whole section with case studies of amazing kitchens, bedrooms and bathrooms that have been created by independent retailers up and down the country. So we can still inspire and advise as we always have done for 30 years, but now the reader can search and find someone close to them to make it all a reality.
Q: What can the retailers do?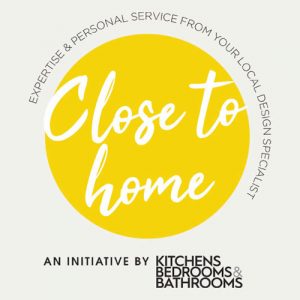 A: We're also encouraging those local businesses to get involved in the campaign. So we've put a pack of assets together that they can download from thesethreerooms.com with a host of different artwork to put in their show-room, on their social media, their website and their emails to shout about themselves and their part in the local community. It's a badge that says they're a proudly independent, local expert that's open for business.
Q: It's interesting that part of this is about showing the difference between forming a relationship with a designer and simply buying something off the shelf.
A: We laugh about it when we're putting features together, but being a designer is so much more than just designing things. That's something we want to get across with this campaign. You're designing projects, yes, and you have that expertise, but you're also a confidant, a marriage counsellor, a mind reader and someone on the end of a phone when the homeowner has second thoughts about the finish of a tile.
So rather than just telling people to 'get a designer in' and that's that, I want readers to understand the depth of the relationship that they will enter into when they find the right designer for them. And, actually, that's the secret to getting the kitchen, bedroom or bathroom that they really, really want.