Brothers Howard (left) and Hugh Miller (right) – one an architect and the other a master woodworker – came together in 2019 to form H Miller Bros in Liverpool. Chris Frankland finds out more about this unusual pooling of talents
When an architect and designer comes to­­­­gether with a master woodworker and furniture des­­igner, you can be sure that the kitchens they produce will be far from run-of-the-mill.
And that is certainly true for H Miller Bros. Brothers Howard and Hugh Miller joined forces to form the company in May 2019 and moved into workshop premises in Liverpool's Baltic Triangle – the city's trendy creative quarter. They had worked together on various projects before that over the preceding eight years, sharing the same office and workshop.
Older brother Howard is a trained architect, designer and landscape designer, while Hugh is a furniture maker and master woodworker.
Of course, the duo hardly imagined that less than a year after they started up a virus would plunge us all into a nationwide lockdown.
Howard recalls: "We didn't stop working through the pandemic. We're very small and lean and that helps and we're not looking to do hundreds of kitchens. The projects we do probably have a slightly longer lead-in time and are higher-value [between £40,000 and £90,000], which means that we can weather short-term storms a little bit more easily than a larger business might. It has caused innumerable frustrations over the past six months, but from a business strategy point of view, it's not changed anything."
It had its advantages, too, as Hugh explains: "When we were in lockdown, the guy who had been working for us for a while left and so we replaced him with a new member of staff and we found there were a lot of woodworkers who had been made redundant from bigger operations, who were very highly skilled and very attracted to what we were doing – bespoke high-end woodwork. A lot of woodworkers are much more skilled than the type of work they are creating. We were able to take our pick.
"Our new maker, Christoph, is a real professional woodworker and this was so successful that we are now looking to recruit a second professional woodworker to join the team, as well as an intern through the Kickstarter scheme – so we will be up to five within six months."
Skilled staff to work alongside Hugh are vital for H Miller Bros as its furniture is created 100% in-house, by hand, by craftsmen, without CNC machines. Carcasses are usually birch ply but they have also used bamboo, or MDF if a client wants a block colour. Other than that, it is all handcrafted hardwood for the rest of the kitchen.
Every kitchen they make is a completely bespoke one-off creation. Nothing is standard or off-the-shelf. And in many instances, Hugh will create one-off pieces of furniture to complement a design.
And Hugh's decade-plus experience as a furniture maker and self-taught woodworking skills honed over the best part of five years guarantee something out of the ordinary.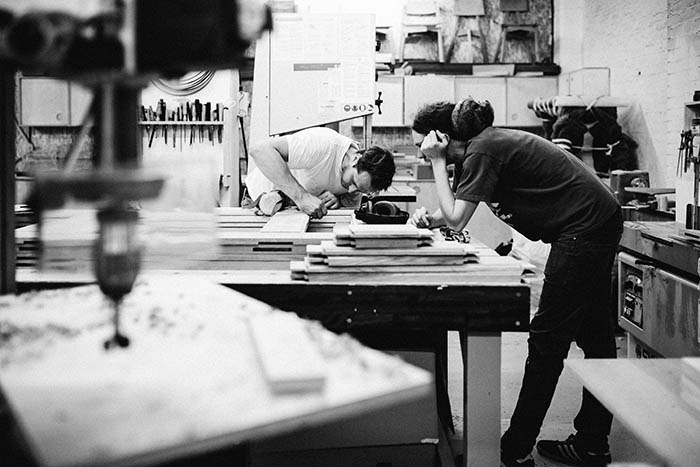 Understanding wood
As Hugh explains: "I have an under­standing of wood that is much more empirical and experience-based and not based on received wisdom. In certain instances, it has meant that we have been able to use wood in ways that other people possibly haven't thought of before. In some of our kitchens, especially the latest one called the Furnituremaker's Kitchen, there's a lot of details in that that are almost a bit bonkers for a kitchen, but we are really excited about it because it is almost like a new dawn in our design work and kitchens in general."
And how do clients react to that?
Howard said: "It is not something that we hugely worry about. We're not looking to do 100 kitchens a year. We're looking to do a dozen really, really good ones and, to be honest, when clients approach us, we're as much interviewing them as they are interviewing us. We want to know that it's going to be a really interesting, exciting project we are going to add value to, so if somebody wants a standard kitchen, they're not going to come to us, and if they do come to us, we're not going to want to do it."
But the Liverpool workshop is just that – an artisan workshop, not a showroom. So how do people find H Miller Bros? Howard explains that leads tend to come from publicity through newspapers, lifestyle magazines and online articles.
And he adds: "I am an architect and Hugh trained as an architect and when we were studying with architects, it's like a fraternity, and [many of them] come to us with projects."
Hugh tells me they have done projects in London, Edinburgh, North­umberland, the Home Counties and are working on one in Brighton.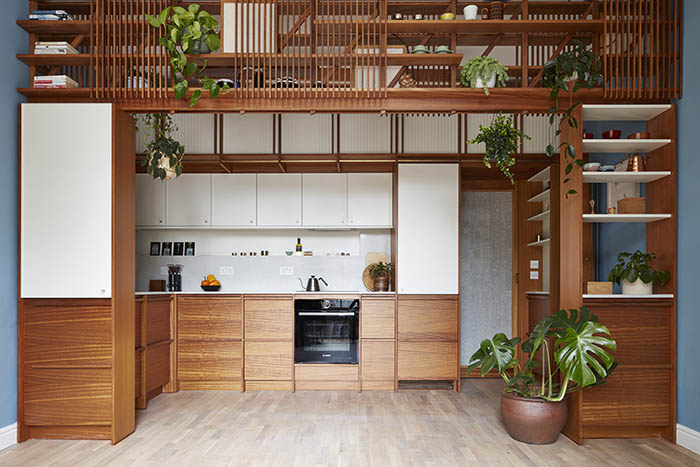 So how exactly do an architect and furniture maker/woodworker unite to create kitchens?
Howard explains how they approach a project: "For Hugh it's a really big piece of furniture and for me it's a really small piece of architecture, like a small building. It's kind of where our two fields overlap and in wanting to work together, it's kind of a natural fit. But we can turn our hands to other things. We love doing kitchens, but we have done other bits of internal architectural cabinetry and standalone furniture, and we enjoy doing that too, so we don't turn any of that down."
Hugh says: "We want to create, and this is where it might start to sound pretentious, what the Germans call Gesamt­kraft­­werk, which means total work of art. What we mean by that is that we want to create projects where we don't just do the kitchen and the furniture and the building and architecture, but we also do the landscape, all of the internal finishes, and maybe also some of the art."
He adds: "We are both interested in different parts of the design but they complement each other perfectly – it's that thing about scale, Howard being a macro-conceptual designer and me being a crafted details designer. Neither of us has a veto over the other when it comes to design. The thing that is strong about our partnership is that the design part of it is absolutely collaborative." Although Howard admits that "we do have some very frank conversations".
Full service
With such a bespoke product, it is not surprising that the in-house team handles all of the installations, although as things start to get busier Howard says they have been talking to an outside company with experienced fitters to see if they can help.
H Miller Bros has also joined up to a scheme called Made Smarter.
Howard explains what that entails: "It's a pilot scheme for manufacturing businesses in the North-West," he says. "And the idea is to try to boost productivity through digital technology. They do an audit of your business and then advise you, producing what they call a digital roadmap to tell you what you could use to be more productive and how to implement them. There is a bit of match-funding in there.
"It also ties into a few other pro­­grammes, including one that aims to try to help businesses in the same region become more eco-friendly. One thing we are looking at is 'lean manufacturing' – a concept started by Honda – it identifies seven different ways of creating waste and you go through these areas and try to make small gains, so that everything you do is adding value to the product you give to the customer."
But what about appliances – do they source them or do they leave it to clients? "We sort them out too," Howard says.
"It is important that we do that because, at this kind of price point, with all the appliances integrated, it's no good us turning up on site and they have appliances they have bought and the fitting drawings aren't great."
Hugh picks up on this: "The quicker we can get it in the better. We recently com­­­pleted a fit in just four-and-a-half days, including worktops. We are getting the process so finely tuned that the kitchen was in before the windows were in on this project.
"Our kitchens are not about blingy appliances stealing the show. They are about the craftsmanship and the design. Miele and Fisher & Paykel are right within our wheelhouse in terms of being very high-quality and they can be integrated really beautifully.
"Most of our clients don't want the big fridge-freezers sticking out into the room, or big range cookers, they want things to be elegant, and seamless."
Although the two brothers chose Liverpool for their operation because it is not only "a cool city with an amazing creative culture" but also because it is more cost-effective than other possible locations, do they plan to set up a showroom there too or somewhere else in the future?
Hugh says: "We do want a showroom in the long run. At the moment, we are trying to be a lean operation so that we can do the sort of projects we want to do and build our brand."
Howard adds: "H Miller Bros is not about quantity at all but quality. We want to do a few, maybe 10, really high-quality projects a year, rather than 15 very similar projects.
"For that reason, a showroom isn't necessarily as good a route to market as press exposure.
"In the long term, we want to have a showroom on Wigmore Street – that's the goal."
• Listen to the Miller brothers speaking to Andrew Davies in one of our recent kbbreview podcasts