CRL Stone has joined forces with Halcyon Interiors to produce a new surface studio.
Large surface displays have been installed in the Halcyon Interiors showroom on Wigmore Street, which will be a hub for CRL Stone customers in the South to come and browse the new collections.
It is CRL Stone's second UK surface studio. The Manchester showroom at CRL's HQ will cover the North of England and now Halcyon Interiors' displays cover southern customers.
David Beckett, CRL Stone director, said: "I don't think that it is something that we would want to roll out across the whole country. Because, between the two locations, we appear to be handling all the enquiries – it may be that at some point in time we do things in the Midlands. This is the location to be, because if someone wants to purchase a kitchen, this street is the place everyone heads to.
"This [Wigmore Street] is the location to be because if someone is wanting to purchase a kitchen this street is the place everyone heads to. Whether they are in the Midlands or south London, this is the area they go to. I've had people visit us in Manchester who have previously been to Wigmore Street just to look around and spend a day walking around. This is the location to be in if you want a high-end kitchen."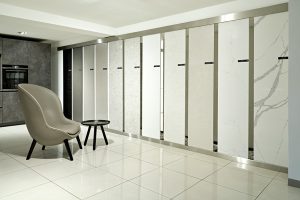 Over the past six years, Halcyon Interiors has seen customers become more interested in the worktops and surfaces. Smaller samples were not enough to give customers a true representation of the surface. These new large displays give a better idea of what the surface actually looks like.
Graham Robinson, Halcyon Interiors' Wigmore Street showroom manager, said: "Over the past five or six years, more and more clients were talking about their worktops. We have nine whole kitchen displays, but there are so many more worktop options. You can show people small samples, but that is not enough to help them make a decision."
The new displays showcase a variety of colourways that have movement in them, like marble veining. The surfaces are mounted on the wall and can be removed easily, so displays can be changed out when there are new products.
Having the surface displays within an established kitchen showroom helps give customers context between their kitchen design and the surface.
Beckett explained: "Having a showroom that shows slabs of stone isn't that interesting. It needs to be in a kitchen environment as well. The customer may not necessarily be purchasing a kitchen from Halcyon, but they want to finalise the surface. In this setting, they can imagine that surface in their kitchen instead of a showroom that uses stone."
See more images and an in depth look at the new studio in the December issue of kbbreview.