Simon Bodsworth, managing director of Daval, says hero details and quality materials in heavily customised designs will be a key trend for 2021 and beyond
Q: Where do you think the industry will go over the next 12 to 24 months?
A: Demand for attractive custom-made kitchen and bedroom furniture in general is rising as consumers seek storage solutions that optimise living spaces and are uniquely tailored to complement architectural features.
Self-expression is forecast to be at the heart of lifestyle interiors in 2021, as homeowners and property developers seek to personalise the home and lean towards keystone kitchens with hero details, quality raw materials and custom elements to anchor overall style identity.
Q: What is your advice for retailers to make sure they thrive in the coming year?
A: Creativity and customisation will be critical in every element of the customer journey, so a combination of solid experience with an eye for innovation will be key, so that retailers can offer the best of both worlds. We have moved into a post-industrial era in which 'reduce, reuse, recycle' has become universally significant in the future of our planet and increased well-being at home and anticipate that this will continue in the years ahead. Using environmentally-friendly materials in interior design has seen huge growth of late.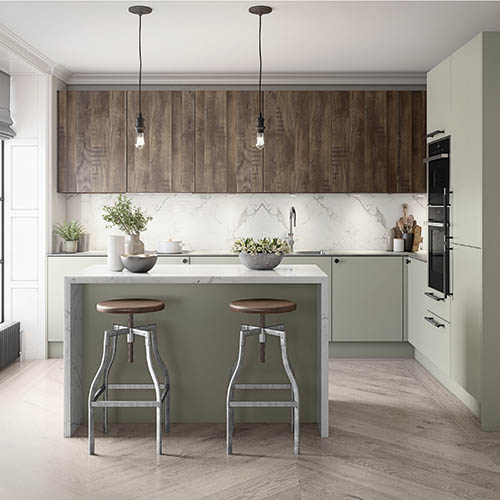 Q: What do you think will be the main areas for growth in the next 12 months product-wise?
A: I would point retailers towards products that will be top-of-mind to protect consumers' health and well-being, such as antibacterial coatings. These will become an important USP going forwards.
Modernising the classic Shaker-style kitchen emerged as a consumer favourite in 2020, as both furniture and the latest fashions continue to focus on authentic product design and quality craftsmanship. Master joinery techniques, eco-friendly materials and special surface treatments will therefore be key in 2021. 'Layered design' will continue to increase the level of customisation in kitchens, with bespoke paint finishes, custom larder options, utility solutions and butler-style pantries.
Real-wood kitchens continue to hit the mainstream and we are finding that solid oak has become a go-to option for creating a sense of calm and serenity in the kitchen.
Another lifestyle trend has taken a four-legged approach to furniture design and storage. With approximately 45% of UK households now owning a pet, it makes sense to accommodate these furry friends from the outset, with custom-designed furniture to house pet food and accessories and built-in pet beds.
Q: How would you rate your confidence in business over the year ahead?
A: We have an absolutely bulletproof team at Daval and I am very confident we will have an excellent year ahead..
Q: How do you think Brexit will affect the year ahead?
A: I think that consumers will be even more concerned with the provenance and longevity of materials, so 'Made in Britain' should have a renewed cachet.