'We managed £26,000 in the first year. Now, we can do that before lunch'
Two years ago Sensio brought its product design and development in-house to bring the business closer to the UK market. Rebecca Nottingham met managing director Michael Linsky (pictured) at its West Yorkshire head office to find out what impact the strategy has had
The Sensio of today is certainly a far cry from its humble beginnings. Two years ago, it moved into a 29,000sq ft warehouse and headquarters in Castleford, West Yorkshire, has a 38-strong team of staff and is on target to achieve turnover in the region of £6.2m this year.
Managing director Michael Linsky recalls: "In the past, we hadn't always been great at supply – that was our weakness. Moving to these premises allowed us to increase our stockholding and grow our team in order to serve our customers better. Our service offering is around 100 times better than it was last year. I'm really proud of what we've achieved.
"We started out selling to the electrical wholesale market which served us well initially, but we identified the need for a lighting brand that was fully focused on selling lighting solutions to the KBB market.
"We now have a solid network of specialist kitchen and bedroom retailers who we reach through our distribution partners. As people's perception of lighting has changed and retailers, and consumers, understand the need for lighting in their designs, we have expanded our portfolio to reflect that and now offer a range of over 300 products. We're known as the specialist KBB lighting company."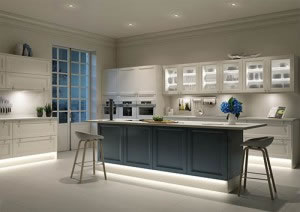 There has been widespread discussion recently over the future of distribution in the KBB sector. As this is Sensio's main route to market, I'm keen to get Linsky's views on what the future holds.
"I believe there will be radical change in terms of what distributors look like in the future and, of course, we have to be mindful of that, but for now, we have to support the partners we've made a commitment to," he says. "We have a great network of distributors, but we don't have many of them, because there aren't many good ones. If you're a distributor that just moves boxes, then you might be in trouble. Like every business, distributors will have to look at ways to add value."
The move to its current location also allowed Linsky to put the next stage of his long-term business strategy into motion. Two years ago, at the kbb Birmingham exhibition, Linsky announced that the company was moving its product and design development in-house in order to bring the business closer to its target market – UK specialist kitchen and bedroom retailers.
So, how is that working out so far? And what difference has it made to the business?
"We only use the best suppliers and it's taken 10 years of trips to and from China to find them," he explains. "Our aim has always been to offer the best quality and service we can to our customers, which is why we won't compromise.
"However, when you source product, you're at risk of competing on price. The only way forward, in my opinion, is to start developing your own products. Obviously, we still have sourced products in our range, but over time the goal is to have everything designed here."
Designing and developing products in-house will, according to Linsky, give Sensio complete control over every aspect of the business and allow them to create a more cohesive portfolio.
"Sensio is about everything around the light, not just the light and I think that's where the competition focus. They just concentrate on selling more lights, whereas we look at developing products and building relationships."
Ultimately, the goal, Linsky says, is to make sure they "leave no stone unturned" and that every design and innovation is focused on meeting the needs of the UK market.
"We're mapping out the next two, five even 10 years of design and development here," he says. "We understand that it's not about being the quickest to develop something. It's about planning as far ahead as possible, so that by the time you go to market, you're still further ahead than your competitors. There may be things we look at and develop that don't go into production but, with Sensio, you can be sure that if we're not doing it, there's a reason for that."
"So far it's been very easy to come up with ways to improve on the solutions that already exist," he adds, "because the market is ripe for innovation."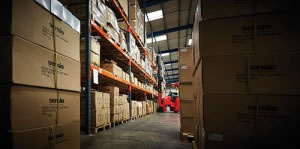 At just 31, you'd be forgiven for assuming that Linsky is part of the next generation of KBB experts but, with 15 years' experience already under his belt, he's practically an industry veteran.
By his own admission Linsky was never the academic type and, rather than going down the further education route, at the tender age of 16 he decided to follow in his father Ray's footsteps and put his entrepreneurial spirit to work.
Together, they founded MR Lighting in 2001 with an initial investment of just £20,000 worth of family savings. Operating from the garage of their family home, they sold lighting solutions to the electrical wholesale market.
"We started out with a little red van and £5,000 worth of stock in our garage at home," Linsky says. "We probably had around 10 customers and a portfolio of just 10 different products in the first year."
Looking to the future, however, can he see a time when Sensio would start manufacturing in the UK?
"Manufacturing here is something we'd do in an ideal world, but design and development is something we can do here today," he says. "We don't have to invest in lots of new machinery, like we would if we were to set up a manufacturing plant. In fact, design development is a relatively small investment for a large return."
Growth
According to Linsky, Sensio has been achieving year-on-year growth of around 24% since 2007, which is down to what he describes as a "simple but effective" strategy to establish relationships with the right partners and to give its customers the right tools to sell its products.
"We managed £26,000 turnover in the first year, which we thought was absolutely amazing," he explains. "Now, we can do that before lunch.
"That's all down to our strategy to build relationships, work with the right partners and to give them the help and support they need to sell our products."
According to Linsky, good business isn't just about offering retailers the right product anymore, it's about educating and supporting them, so that they can sell the right lighting solutions for each project.
"At the end of the day, you can give a retailer the best product in the world, but if they can't sell it, then it's useless," he adds. "Don't make it complicated – and you see results."
As part of its commitment to retailers, Sensio launched the Approved Retailer Programme (ARP). The scheme aims to help retailers understand lighting solutions, create better designs and add value to their business.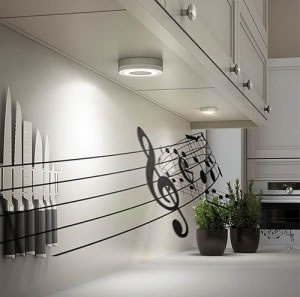 "It's not about throwing a product down retailers' throats. As a supplier, you have to take responsibility for supporting and educating retailers," he says. "If you look after them, they'll come back time and again – that's a long-term business model.
"We want to engage and build relationships with retailers, that's what the ARP scheme is all about. There's still room for improvement. We need to get even closer to our retailers and that's our target over the next year.
"At the end of the day, you've got to add value to customers, and if you can't do that you can't sustain your business and you won't exist," he says. "But that doesn't have to mean complicated."
Sensio, and certainly Linsky, is clearly in this for the long haul, so are there any plans to diversify into other sectors or markets?
"Kitchen and bedroom lighting has been the core focus for Sensio since we began," he explains. "But, we identified a gap in the market for really good quality, well-designed lighting solutions for bathrooms with strong support for retailers.
"We want to replicate what we do with lighting in the kitchen sector in the bathroom sector."
Although Sensio started selling bathroom lighting in 2015, following feedback from its retail network, it has spent the past 12 months redeveloping its portfolio.
The results of which were revealed at this year's kbb Birmingham exhibition.
"The bathroom lighting market has been pretty slow to develop," he explains. "We could see that there were a lot of illuminated mirrors with fluorescent and halogen options on the market, but the market hadn't really moved into LED technology. Our aim was to speed up the bathroom lighting market and that's what we've done with our updated range."
Considering the obvious issues of mixing electricity and water, how easy was the transition from designing and developing lighting for kitchens and bedrooms into the bathroom?
"It's a whole different discipline, so it's been a challenge," Linsky admits. "But, because we've got our own design and development team here in the UK, it makes it much easier. We understand lighting, we know the market and we know what our retailers want. All that's changed is that we have to take the technology and put it into something that's waterproof. That's really the only change in dynamics."
Sensio's bathroom lighting portfolio features more than 70 products, including ceiling, wall and cabinet lighting, as well as 26 LED-illuminated mirror and cabinet options.
"We see bathrooms as the next big growth opportunity for Sensio, particularly now we have the in-house design team," he concludes. "We'll finish at around £6.2m this year, but I can't see why, in the future, we can't double our turnover just by doing bathrooms."