Sales of building products through merchants were largely flat in October last year, but kitchens and bathrooms struggled, with a drop of 6.5% year on year.
Compared with September, however, kitchen and bathroom sales in October were up by 1.7%.
Figures revealed in the monthly Builders Merchant Building Index (BMBI) for October last year showed that some sectors did far better than others, but the BMBI report said that merchant sales had recovered well after the initial impact of the Covid pandemic and fears over Brexit.
Kitchens and bathrooms saw a drop in sales of 6.5%, while plumbing, heating and electrical products were down 10.5% – both well behind sales in the landscaping sector, which increased by 16.5%.
Timber and joinery products recorded their highest monthly turnover since BMBI started collecting data in 2014 – with sales value up 5% on 2019.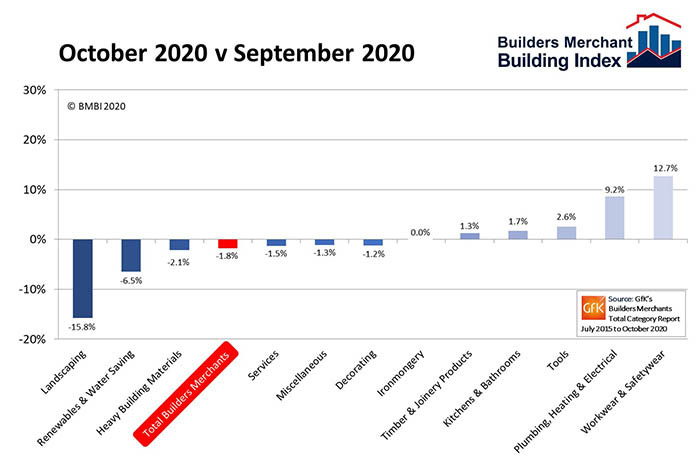 Overall, total builders merchants' sales for October 2020 were 0.2% up on the same month the previous year, although average sales per day, which compensate for a one-day trading period difference, were up 4.7%. But compared with the month before, October sales overall were 1.8% lower.
On a month-by-month basis, however, compared with September, kitchen and bathroom sales were up by 1.7% and plumbing, heating and electrical sales were up 9.2%.
Total sales for the year to October 2020 were down 13.8% compared with the same period the year before. Most categories were between 13% and 19% down, but kitchens and bathrooms flagged by 20.3% and plumbing, heating and electrical by 22.1%.
Mike Rigby, chief executive of MRA Research, which produces the BMBI reports, said: "Merchants have recovered well given the exceptional challenges they faced this year, but continued uncertainty due to an emerging second wave of Covid-19 and tense Brexit negotiations took its toll on sales in October.
"While landscaping performed well above expectation, it's disappointing that plumbing, heating and electrical and Kitchen & Bathroom sales didn't see as much of a seasonal increase in October this year as they usually do."