Kitchen doors and components supplier Uform has restructured its sales team with some new appointments across the UK and Ireland.
Stace Alibone (pictured) has been promoted to the position of UK national sales manager where he will manage a team of seven area sales managers.
Alibone has over six years' experience within Uform and previously managed the Midlands region. Alibone commented: "I am delighted to be appointed as UK national sales manager. This new role will allow me to maintain and develop key relationships with customers and act as a support network for our area sales team going forward in order to build the business in line with our company strategy."
Two new area sales managers have recently joined the team with the hopes of further expansion within the UK market.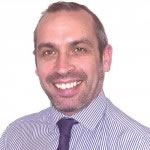 Neville Parkin will manage the North-East England and North East Scotland regions. He brings over 16 years experience within the kitchen industry to the role as well as experience in the textile industry.
Gregor Carswell joins with the responsibility for the East Midlands and South Yorkshire regions. Carswell has previously worked in the automation industry and for global market provider of craft and industry products, Wurth UK.
In the Irish market, Brian Dunne has been appointed regional sales manager to take charge of the Connacht, Munster and Leinster regions. Dunne has worked at Uform for the past 16 years. He said: "I am pleased to take on the position of regional sales manager for Ireland. This next phase of planned growth is exciting and I look forward to helping Uform achieve growth targets in the southern Irish market."
Uform chairman Eamon Donnelly said: "This latest restructure and growth of our sales territories is absolutely integral to help deliver our strategic plan. Our aim is to further penetrate the marketplace and more importantly continue to provide our existing customer base with a premium buying experience. The recent appointments will facilitate further strengthening of key relationships.
"We've experienced substantial growth over the recent years and this is set to continue with another £2 million investment which will increase warehousing and painting capacity. The next few months will see aggressive new product introductions and an enhanced paint to order offering. Both Brian and Stace have contributed immensely to our growth historically and I'm confident they will lead the teams to further success. I'm particularly pleased to welcome Gregor and Neville to the UK team and I'm confident that they will prove to be valuable assets moving forward."