The Aqualla and Adamsez brands have been acquired by the FM Mattsson Mora Group, which supplies kitchen and bathroom taps in Scandinavia and the Netherlands.
The deal, for an undisclosed sum, was completed on Friday, February 26. Brassware specialist Aqualla and bathroom brand Adamsez join Mora Armatur, Damixa and Hotbath brands under the FM Mattsson Mora umbrella.
Said Aqualla founder and managing director Steven Allaway: "We feel that this is a huge step forward for our business, indicative of our continual endeavour to provide first-class service and quality products to meet the needs of our customer. We are looking forward to offering some of the best products designed and manufactured in Europe."
Northern Ireland-based Aqualla reports that it grew its business by more than 30% in 2020, delivering a revenue of £7.6 million. It employs 37 people.
Aqualla acquired the Adamsez brand in June last year. The Adamsez brand dates back to 1880 and is best known for its high-end bath range. It too is now based in Newtonards with Aqualla.
Aqualla will continue to operate as a freestanding business unit within the FM Mattsson Mora Group and will be supported by the group. Its existing management team will remain in place, led by MD Steven Allaway (pictured left) and sales director Noel Daly (right).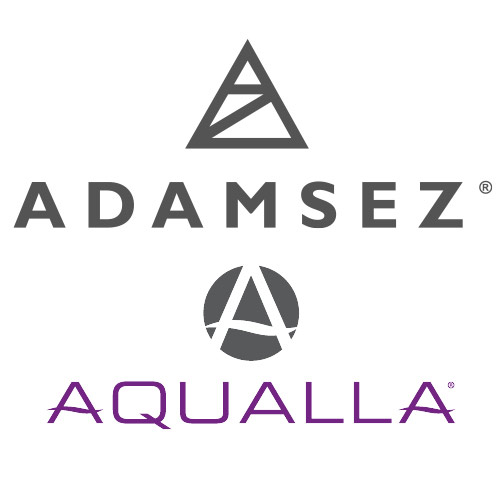 Aqualla said that the acquisition will enable it to bring new, innovative products to market, bolstering its current offering through access to the group's in-house design and manufacturing facilities. It will also, said the company, bring new opportunities to export their brands to the Nordics and across Europe.
Aqualla MD Steve Allaway said of the move: "When we were approached by the group about joining forces, we were poised for a period of exciting new opportunities with both the Aqualla and Adamsez brands and experiencing rapid expansion. We had no plans to sell, but the cultural and strategic fit between the two businesses was clear from day one and we believe there could be no better long-term home for Aqualla and our people.
"By working with the group going forward, we are excited to be able to offer new, innovative and unique product ranges to our existing customers, as well as take advantage of the group's in-house design and manufacturing capability to further extend our own capabilities."
Sales director Noel Daly commented on the opportunities presented by the acquisition: "By working with the Group going forward we will be able to offer our customers an even wider range of products, including some of the finest available in Europe, and offer our highly valued team myriad opportunities personally and professionally to continue developing and growing Aqualla and Adamsez in GB, North and South of Ireland and beyond. We will be continuing to invest in Aqualla and accelerating our growth plans, including adding more people to our team to support the growth. FM Mattsson Mora Group values parallel our own with a commitment to growth through a customer centric approach and focus on company culture"
FM Mattsson Mora Group chief executive Frederik Skarp called it an "historic step" for the group. He said: "The acquisition of Aqualla is a very clear and exciting step in our growth strategy and establishes us in the UK and Ireland which is one of the largest bathroom markets in Europe. At the same time, we are taking a historic step by expanding our product portfolio beyond taps. I have been extremely impressed by the strength of Aqualla's customer focus and dedicated employees so am very much looking forward to continuing the journey with them as part of the group."
In 2019, the FM Mattsson Mora Group reported sales of more than SKr1.4bn (£119 million) from its companies in Sweden, Norway, Denmark, Finland, Benelux, Germany and Italy, and employs more than 500 staff.