Q4 2020 figures from the Builders Merchants Building Index (BMBI) show the sector continuing to recover following the dramatic decline after lockdown in Q2 that year.
Q3 figures were already strong, but the BMBI reported total builders merchant sales up 5.4% in Q4 2020 compared with the same quarter in 2019, helped by an extra day's trading.
Average sales per day in Q4 were down by 3.4% on Q3 as there were fewer trading days in that quarter.
Q4's strong figures were driven by landscaping rising by 22.9%, with timber and joinery up 12.7% and heavy building materials up 4.3% on 2019. Plumbing, heating and electrical declined in Q4 by 6% over 2019, but kitchens and bathroom did better with sales down by 2.6%.
For 2020 as a whole, total sector sales were down by 10.7% on the 2019 trading year and with the first lockdown and the good weather driving people into their gardens, it is unsurprising that the only category to show an annual increase on 2019 was landscaping, which was up 5.4%. Plumbing, heating and electrical was down by 19.1%, with kitchens and bathrooms lagging 2019 by 18.1%.
Lowest point for merchants was April, when the total sales index slumped by around 28%, with the monthly sales index figure year on year for total sales dipping by just over 75% and almost 90% for kitchens and bathrooms.
Commenting on the figures, Builders Merchants Federation chief executive John Newcomb said: "Given widespread site closures, both at the start of the pandemic and for extended Christmas shut down periods, the continued year-on year growth seen in the final quarter of 2020 provides a positive indicator of the building industry's recovery.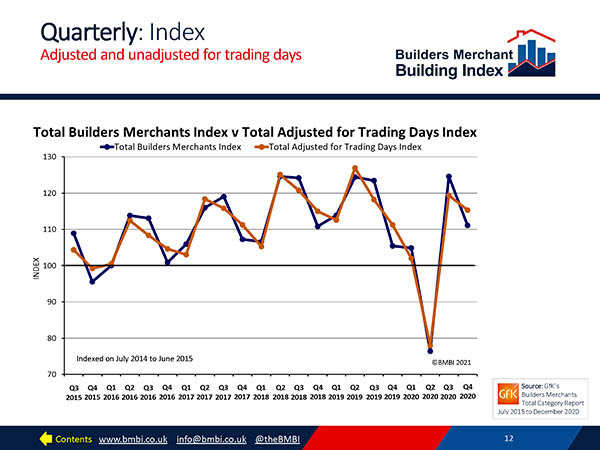 "No doubt the Covid effect, including its impact on product availability, will be felt for some time to come. But the adaptability to enforced changes demonstrated by merchants and their trade customers over the past 12 months gives me a cautious degree of optimism for the coming year."
Emile van der Ryst, senior client insight manager, trade, at analyst GfK, added: "A final review of this year highlights just how well the sector has bounced back. During Q2, the economic outlook for the remainder of 2020 seemed perilous, but a combination of renovation, maintenance and improvement (RMI) activity plus relaxed restrictions in Q3, followed by Brexit uncertainty combined with anticipated stock shortages in Q4 turned the ship.
"Taking all the above into consideration, the final annual result of a 10.7% value decline seems a lot more palatable. 2021 now provides a realistic hope of a return to normality and an expected economic upswing."
Mike Tattam, sales and marketing director of Lakes and one of the BMBI's panel of experts, spoke of the supply chain difficulties caused by the pandemic: "As Covid spread across the world at the end of Q1 2020, there were widespread lockdowns. So shipping companies left ships in ports around the globe, along with sailors and containers. Anticipating a slow recovery, they also cut capacity. Now, a shortage of containers worldwide and unexpected, unprecedented demand is creating bottlenecks in many ports and driving prices skyward.
"UK container ports such as Felixstowe and Southampton bottlenecked in January. With containers waiting to be shipped or hauled away by road, and many stocked full of PPE supplies just waiting, there's little room to unload ships. Seeing long queues of ships waiting to unload, other ships sailed on to other ports and looked in on the way back"