A report on digital marketing trends in the bathroom market has identified its top-performing retailers and brands across several key performance areas over the past year.
The report comes from search marketer Salience, which specialises in advising brands on new website builds and market-leading search campaigns.
Sales and marketing director Richard Waters said: "This report highlights your brand's successes and shortcomings compared with the biggest names in the industry across key digital metrics. The data covers 12 of the most turbulent months we'll, hopefully, ever see."
He added: "[It was] a wild and unpredictable year. No surprise online is more crucial than ever."
The report starts by looking at companies' visibility online, which it says is a key SEO metric and shows how easily a brand can be found online . It adds that "brands with high visibility dominate search engines and are the first to be seen and the first to be clicked" and are more likely to reach their target market.
The report lists its five top performers in terms of visibility.
Visibility
Top 5 'brands to watch'
Victorian Plumbing
City Plumbing
Big Bathroom Shop
Better Bathrooms
QS Supplies.
The report also looked at scores based on 'authority', which it says defines the stature and reputation of a website. It says: "Search engines like high-authority sites as they're loaded with trustworthy signals and likely to provide useful services and content. Authority is measured through a metric called domain rating. The higher it is, the more chance you have to rank for competitive keywords and boost your visibility."
It advises: "Authority is best achieved through link-building. But it's not about quantity. A few high-quality links go miles further than loads of spam."
Page Speed
Top 5
Trade Plumbing.co.uk
Bathroom Supplies Online.co.uk
Victorian Plumbing
Paramount Bathrooms
Heat and Plumb.com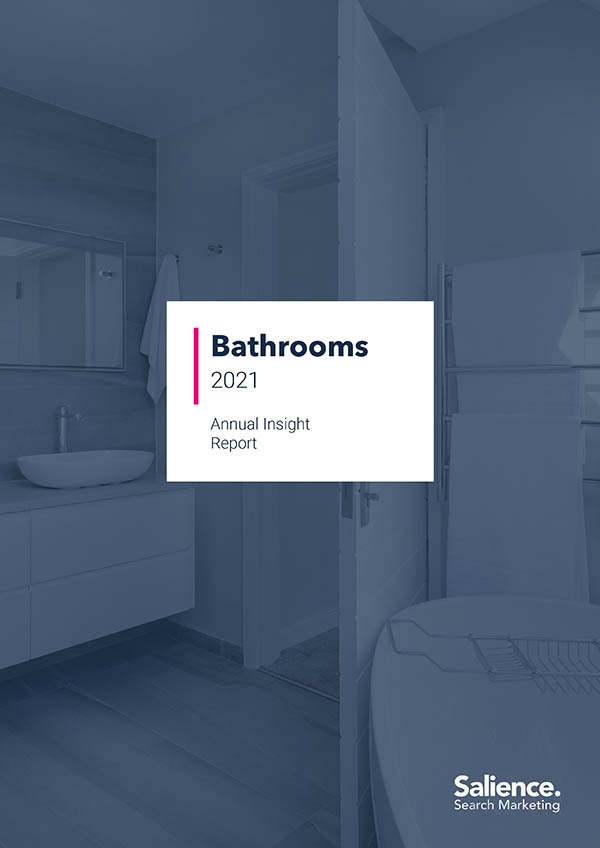 Salience also looked at digital brand reach, which centres around how well recognised a brand is within the industry. It says: "To calculate this figure, we blend traditional search metrics with performance of social channels across the sector. This helps identify which brands are most prominent across a range of channels."
The rankings below takes into account monthly searches and social media followers and how they were engaged.
Digital brand reach
Top 5
Victorian Plumbing
Victoria Plum
Grohe
Duravit
Hansgrohe
Keywords were also identified as a key factor. The report broke them into two types. High-competition keywords are typically sought after by big brands. These need to be closely monitored, it says, and continued search marketing activity is needed to safeguard them. Then there are opportunity keywords, which are those that challenger or low-visibility brands most need to increase their digital reach.
Top 10 High-Competition Keywords
Bathrooms 
Bathroom cabinets
Shower
Bathroom suites 
Bathroom design
Bathroom sink
Shower caddies
Shower cubicles
Bathroom fittings
Bath shower screens
Top 10 Opportunity Keywords
Bathroom tiles
Walk in shower
Shower bath
Grey tile bathroom
Bidet toilet
Bathroom suppliers
Bathroom plans
Bathroom refurbishment
Bathroom shops
Bathroom installation