How having its products specified by an award-winning Eco Hotel validated Bette's commitment to sustainability.
The Times and Sunday Times Eco Hotel of the Year 2020, The Bull Inn in Totnes, Devon, selected Bette to provide it with shower trays and baths that fit with its focus on sustainability.
The hotel is the brainchild of owner Geetie Singh-Watson, who opened the world's first certified organic pub in 1998. She worked with Devon-based architect, Jackie Gillespie of Gillespie Yunnie Architects, to ensure that every aspect of the hotel is sustainable. This includes the lime-plaster walls, organic mattresses and linens, and an innovative heating system.
"We are committed to a philosophy of Doing Business Better," explains Singh-Watson. "This drives us to really examine the best way to do things – to scrutinise our habits and our ways of being and buying."
Driven by the goal of keeping the hotel's ecological footprint as small as possible, it's perhaps no surprise that, when it came to specifying products for the guest bathrooms, Singh-Watson and Gillespie opted for sustainably-sourced products.
No plastic
In a bid to avoid the use of plastic in the bathrooms, each of the hotel's eight bedrooms features an en suite with either a shower, with Bette glazed titanium-steel BetteSupra shower tray, or a double-ended BetteStarlet bath. All of the shower trays and the baths feature Bette's almost invisible anti-slip surface, Anti-Slip Pro.
"Baths, shower trays and basins made of glazed titanium-steel can be a more sustainable choice," explains Sven Rensinghoff, Bette's head of marketing and product development. "At Bette, we use only natural materials in the production process and not only are the products so durable that they come with a 30-year warranty, but when they do, eventually, reach the end of their life, they are 100% recyclable.
"We have a policy of buying all our materials as locally as we can, with 99% being bought from Europe and 60% from Germany. This not only helps with our carbon footprint, but also with continuity of supply."
Natural materials
Architect Jackie Gillespie emphasises why glazed titanium steel products were the only option for the bathrooms in this eco-hotel.
"We used Bette shower trays and baths because they combine high quality and lasting looks with sustainability, as they are made from natural materials and are recyclable," she says.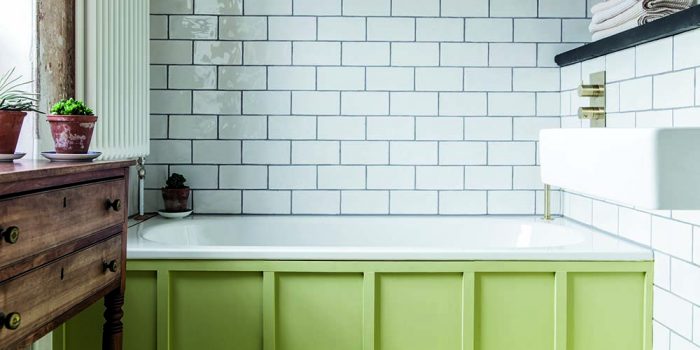 "I particularly like the low profile and solid feel of the BetteSupra shower trays, and the fact that they come with adjustable frames. I have used the shower trays and baths on many projects and like the double-ended symmetry and comfort of the Bette-Starlet bath with central waste.
"It's also useful that the trays and baths come in a wide range of sizes, so we were able to select the right sizes for the rooms, including 1,200mm x 900mm shower trays in the majority of the bathrooms."
Singh-Watson adds: "It was really important to me that we didn't have plastic baths or shower trays and I believe that, if we always looked at the end of life of a product when we buy it, we would change the impact on the planet. The Bette products are 100% recyclable and will last for many years."
Bette has had the sustainability of its products confirmed by an Environ-mental Product Declaration (EPD). This declaration, which is based on the ISO 14025 and EN 15804 standards, covers the functional and technical qualities of products over their entire life cycle.
As part of Bette's commitment to sustainability, it currently produces two-thirds of its total energy require-ments itself, through investment in solar technology. It is even investing in renewable energy technology with the aim of producing all of its own energy.
Rensinghoff adds: "It's important to provide products that deliver on luxury and sustainability. What the product is made from, how it has been made, how long it will last and what will happen to it when it is no longer required, should all be considered."
Every day in the week leading up to World Environment Day, we are publishing stories from the KBB industry to do with the environment, sustainability, and water saving. To read more articles on this topic go to www.kbbreview.com/?s=sustainability
Have you heard the latest episode of The kbbreview Podcast?