With a strong heritage of manufacturing kitchens that spans over 90 years, SieMatic has become the premium choice for retailers.
SieMatic was founded in Germany in 1929 and the brand has been driven by one idea ever since: to develop exemplary kitchens. The Löhne-based manufacturer markets its product through exclusive partners worldwide and believes it is at the forefront of design and technology in the premium sector. It is this brand confidence that is attracting retailers with a similar self-belief to consider becoming a SieMatic partner.
Strong investment
Recently, SieMatic has made significant investment into online marketing, including a new digital lead acquisition programme and partner CRM system. The German manufacturer offers new product launches twice a year and has recently launched new furniture finishes in ceramic and brushed metal. Tens of millions of Euros have also been ploughed into new facilities at the brand's production site in Löhne.
Another large part of this investment has been towards rebranding – SieMatic is shifting from product focus to lifestyle. It believes that the ability to connect, relate, and to convey the emotion of interacting with the brand means it's putting its best foot forward.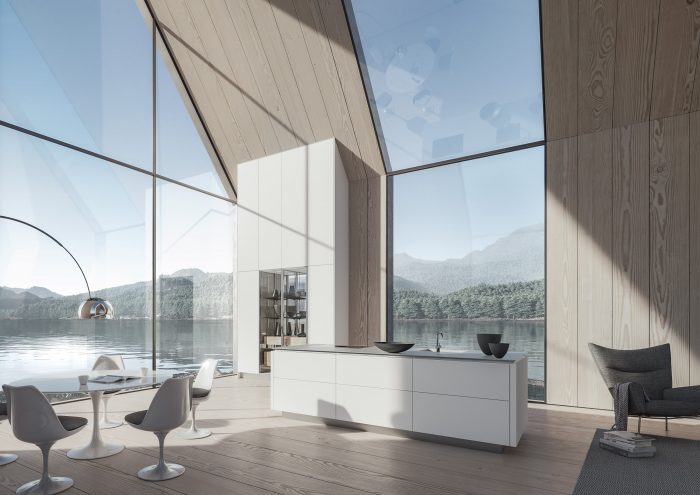 Naturally, with more investment into the brand, the more presence and market share is expected. Currently there is a spread of UK-based retailers already partnered with SieMatic, all independently owned, allowing for good accessibility but also an air of brand exclusivity. SieMatic isn't looking for as many partners as possible, but rather partners who are the right fit for the brand – a harmonious collaboration.
Working with SieMatic
SieMatic prefer to take a holistic approach to finding retail partners. The brand is looking for retailers who can create a synergy with the more discerning clientele and convey a sense of security to customers, justifying their investment through trust and transparency.
A SieMatic retail partner knows the language of design and can connect with architects and interior designers alike. You'll be innovative, forwardthinking, and digitally savvy. SieMatic believes that by supporting its partners through the ever-changing shape of business, it's the perfect partner for the retailer who understands design and quality.
Benefits of partnering with SieMatic
The SieMatic Academy – training and support via seminars or webinars.
Tailored partnership – customer profiles are married to retailers, catering to regional needs.
Three lifestyle groups – offering product in different styles: Pure, Classic, and Urban.
Trend reports – your staff stay knowledgeable on future designs and innovation.
Marketing support for increased brand awareness.
Freedom for partner retailers to advance in different sectors of the market.
Collaborative working to improve and advance the business.
---

For information about becoming a SieMatic partner, please call 0161 7680 989 or email [email protected]