Bathroom Brands has added a new name to its stable of brands – Thirty6.
The range is aimed at the typical small 6ft x 6ft British bathroom, hence the name Thirty6.
The number one target market is trade sales to house builders, plumbers and installers for use in new-builds, hotels, sports clubs and such like. Which is why Bathroom Brands has signed an exclusive deal with Plumb Center.
Bathroom Brands director Roger Cooper (pictured) said: "The internet has created more traffic from carriers. So we take it from the factory directly into Plumb Center's warehouse on an exclusive basis. Not exclusive for selling, but exclusive for stocking. They will sell it through their network of 500 branches to house builders and installers and to the consumer. They will also provide a third-party logistics service. So, if a house builder says to us 'we want two sources of supply', then they can place an order with us and Plumb Center will deliver it. We think that is quite revolutionary."
Cooper said the inspiration for Thirty6 came from consumer feedback, which revealed they felt that products in brochures were too aspirational and would not work in their bathrooms.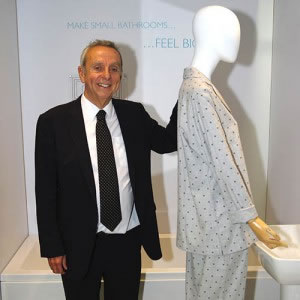 "We took that message to a design group and told them we don't want funny-looking products designed just to fit a space, we want products that are clever," he added.
The result is MyHome – the first range from Thirty6. Clever touches include 500mm, short-projection toilets – wall-hung and back-to-wall, and 600mm for close-coupled. And on the basins, it went for a square, thin-rimmed 500mm basin that it says has the same capacity as typical 600mm. Cooper added that it "also makes the bathroom look bigger".
Another clever touch comes in the bath, which uses an Xofill for filling and overflow, avoiding the need for a rim-mounted mixer. Filling is also thermostatically controlled.
Prices range from around £700 to £1,700 for a whole bathroom suite. Currently there are around 250 SKUs available through Plumb Center's 500-branch network. Commenting on the potential benefits for Plumb Center, category director for plumbing,
Richard Redfern, said: "It is great to work with people who have put in the design work and come up with a great solution for customers. Lots of customers are disappointed by their bathrooms in new-builds. We are confident Thirty6 is the right product at the right time. And Bathroom Brands are the right partners. We felt we were underrepresented among regional house builders and we needed something to offer them and show to their customers. Bathroom Brands have created a brand we can take to them and it is something unique. No one can compete on price with it."
Although Thirty6 is aimed at trade customers, Cooper said that retailers can still buy direct if they have an account, but it will be delivered by Plumb Center.
Expect more showering products within the next four months.