Compusoft has unveiled the best kitchen and bathroom spaces submitted by its customers for its latest design competition.
The summer contest was open to designers using Compusoft's Winner or Innoplus software.
The criteria for the kitchen side of the competition reflected what this season is known for – spending time outside with family and friends. What better way to reflect that than with designs that bring the outside in. Think bifold doors, floor-to-ceiling windows and islands with garden views.
As summer is about spending time with loved ones, in the bathroom category the brief called for functional, family bathrooms.
Entries were submitted via Instagram, Facebook and LinkedIn and the judging panel was made up of Taylist Media managing editor Andrew Davies, Compusoft managing director Alex Ainge, Kitchens Bedrooms & Bathrooms editor Lindsay Blair, and kbbreview editor Rebecca Nottingham.
The winning summer kitchen design came from Ashley Chapman of AC Design in Scotland.
"As usual, there were some absolutely fantastic entries in this category," said kbbreview editor Rebecca Nottingham. "Summer is all about fun in the sun, so we were looking for kitchens that brought the outside in and this space from Ashley had it all. The large-format bifold doors, floor-to-ceiling windows, natural stone flooring, skylights and a the 'living' wall all give that sense of being outside while, at the same time, being sheltered from the elements. And the natural light pouring through softens the stylish dark and moody handleless furniture."
Nasser Fahad of Leonide Interiors in Chesterfield won the bathroom category with a design for a sophisticated, family space.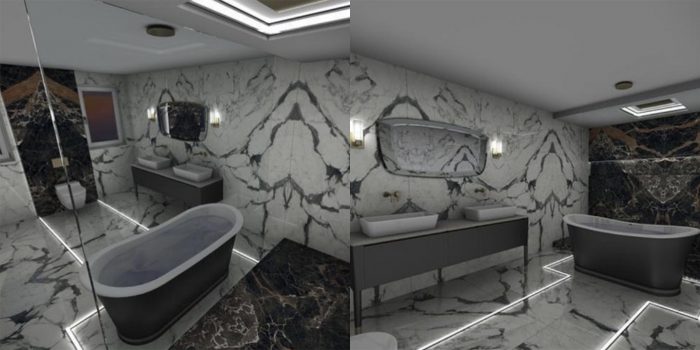 Commenting on the winning bathroom design, Kitchens Bedrooms & Bathrooms editor Lindsay Blair said: "When you hear the term 'family bathroom', you often think of a bright, fun space suitable for young children. But what happens when those children grow up? We loved the way Nasser turned this brief on its head and looked towards creating a stylish, multigenerational family bathroom with a freestanding bath and wet room."
You can view all the entries on Facebook, Instagram or LinkedIn by using #csdesigncomp. Both winners will receive a hamper of tasty treats.
To find out more about Compusoft, click here