Tom Howley has opened its 18th showroom in St Albans. The new showroom was designed after extensive market research about what Tom Howley's customers wanted.
When opening a showroom at a new location, there first has to be a demand for the brand in that area. After that comes to research into what customers want and what to include in the showroom.
Tom Howley explained the research process: "Whenever we launch a showroom rather than looking to trends, we look to what clients are requesting from our nationwide design team.
"Multifunctional living has become a necessity as we have spent so much more time in our homes. But also, the little luxuries such as a separate boot room or walk-in pantry – where space permits. Maybe ten years ago, if you would have asked me if clients "really do buy the dark navy islands", then I would have said no, but over the years, people have become braver, not only with colour but with statement design choices in their own homes."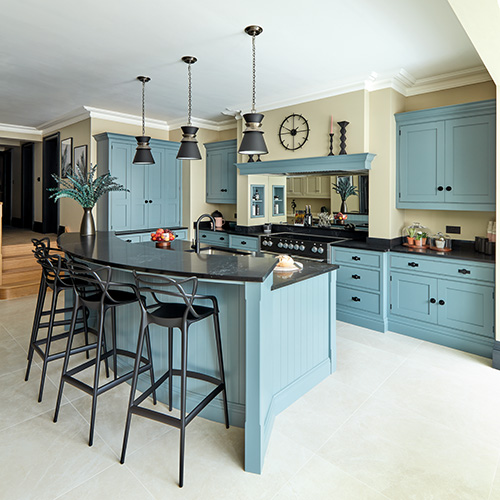 Certain aspects make up a Tom Howley showroom, like creating a space that feels homely and that the customers can use as a source of inspiration. Howley said: "Each Tom Howley showroom is an evolution of the last. St. Albans is our eighteenth Tom Howley showroom, so it would be remiss of us not to use this showroom as a platform for our latest design innovations."
There are three kitchens, the Devine in green, the Hartford in the pale blue Azurite and the newest design, Butler, in white at the back of the showroom. The showroom also has a pantry, and a boot room as these are common extras in customers' designs.
Full-sized kitchens are a must within the showroom as it is vital that customers can see how the kitchen looks and feels. Howley said: "The idea with our showrooms is that they are not just a collection of furniture designs that we offer, but rather a demonstration of how a full-size Tom Howley kitchen looks and feels.
"We want our clients to feel like they are getting a real-life experience in our kitchens; that's why each display is designed completely bespoke to space it is in, and every design decision is a considered one. The showrooms need to showcase the very best version of a Tom Howley kitchen, every time."
To see more images and to read more about the showroom, see the August issue of kbbreview.