Day True aims to create living spaces that are distinctively different, driven by the belief that good design should be available to everyone. The project we feature here was a two-bedroom apartment in London's Mayfair where they created a kitchen, two bathrooms and a bedroom for a property developer.
Appointed by a property developer to completely transform a disjointed two-bedroom apartment in the centre of Mayfair, Day True used its unique approach to design and living to create an open, spacious and functional home.
With a brief to maximise natural light and to create a feeling of space, all of the existing rooms in the apartment, bar the guest bathroom, were reconfigured. Looking at the floor plan as one whole space, Day True was able to divide and effectively zone the property in order to create an airy, bright and open apartment, from what was originally dark, dated and disjointed.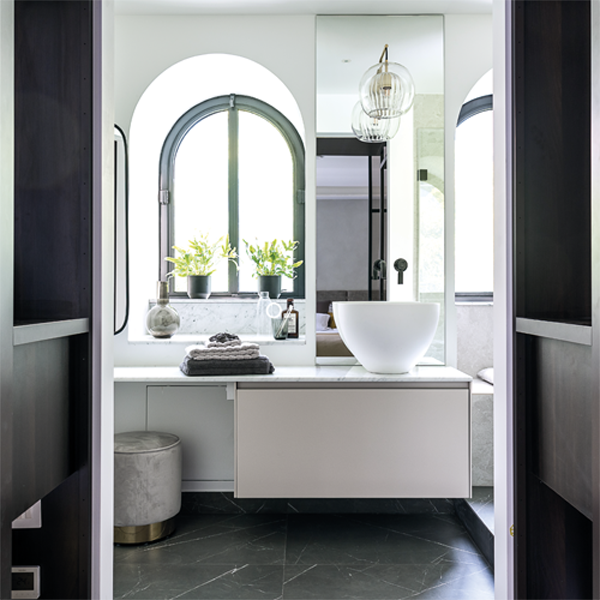 Positioned in a unique setting, the property is entered through a church and a large open central courtyard with tranquil water fountains. Forming a central focal point to the property's new layout was an internal patio, by which Day True was able to maximise the view of through almost every room in the apartment, flooding light into the home and achieving balance throughout.
The master bedroom was relocated to what was the original lounge space, so that a large open-plan bedroom, dressing room and en suite could be created off the outdoor patio. A tight fit ensured Day True was able to apply their skills in spatial planning by removing all the doors to use as much space as possible. The WC was positioned behind a stud wall to provide privacy with a large walk-in shower hidden from view of the bedroom.
With all internal walls removed, Day True installed a 'mist' system to ensure all building regulations were met, that privacy could be achieved when desired, but that light could still flood the apartment from the courtyard. Smart glass was also installed to the external windows in the en suite, to allow the greenery in the courtyard to be seen, yet at the touch of a button could turn opaque. Herringbone flooring was laid throughout to achieve a seamless and consistent flow, which maintained the feeling of space.
Walls were kept light with contrast and texture added through a vertical panelled wall in the dining area, to help draw the eye up and add height to the room. This also cleverly concealed a door to the master bedroom. The kitchen was also kept bright and was contrasted with bronze handles and a dark brown marble worktop and cladding.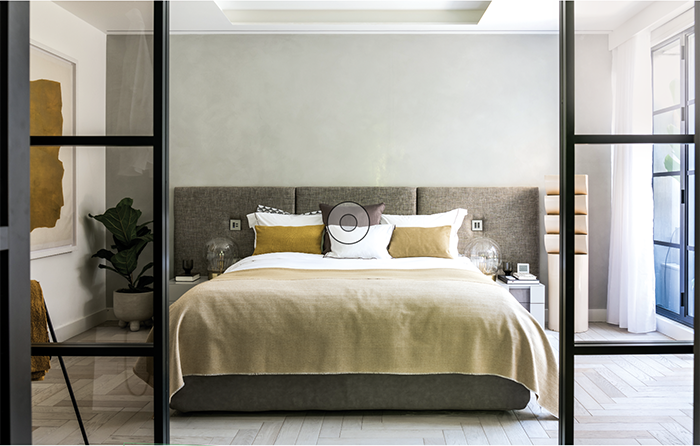 With no limiting internal structural factors, Day True was able to combine its distinctive approach to layout with good design to ensure every inch of space and every ounce of light was maximised in this exclusive apartment.
Installer's comments
The building inspector was con–cerned that someone may lean over the hob in the kitchen. This led to Day True creating a barrier by adding a bespoke metal frame from worktop to the ceiling, which also provided extra storage space. The main issue was the raised floor in the kitchen, which was a lift shaft, so could not be removed. Day True positioned the kitchen above the lift to mask the change in level, which created more storage and enabled them to create a kitchen and living style space.
About Day True
Tony and Hayley Robson started Day True in Maida Vale in 2013, opened in Chelsea in 2015 and now have a third showroom I Wimbledon Village that opened in 2019.
Driven by the fundamental belief that good design should be available to everyone, Day True combines a desire for enhancing lives with decades of knowledge and industry-leading products to deliver exceptional interiors solutions for homeowners, designers and developers alike. It sells kitchens and bathrooms – it's about homes, design and living.