Brothers Sean and Tom Anson opened Niche Kitchens on the Wirral in between lockdowns and have seen the retail and joinery sides of the business go from strength to strength. Chris Frankland finds out more.
Starting a new business can be challenging when times are normal, but Niche Kitchens in Upton village on the Wirral peninsula faced the additional pressures of opening between lockdowns in September 2020.  
But what made them branch out from their promising career as joiners and set up a kitchen showroom? What did they think they could bring to the market that was different from their competitors?
Sean Anson (pictured right) is in no doubt and says he believes their age gave them an edge. He explains: "People can tend to look at us and wonder if we have got the experience we need to sell and fit a kitchen, and we've had that throughout our careers because we are quite young [Sean is 25 and Tom is 30]. But that is something we have been able to work to our advantage. Because we are quite young, we are coming in with different ideas, fresh ideas – a completely different approach from a standard kitchen, where many people just put boxes in rooms."
And what exactly are those fresh ideas? Sean elaborates: "We look to work with different materials, more sustainable materials – things that people might not necessarily consider. Things that will last longer. Coming up with ideas for different layouts. We won't just look at a wall and decide to put four standard 600mm units in. We will look at ways to change the layout of that room to make it more convenient for the end user. People use their kitchens on a day-to-day basis for multiple different things. We will look at their needs and how they want their kitchen to work for them – more places to sit and be social."
He believes that a good kitchen design can bring families together. He says: "The kitchen is the heart of the home and a lot of entertaining goes on there. Most people renovating now are knocking their kitchens and dining rooms together or extending the house. So the kitchen becomes an open entertainment space.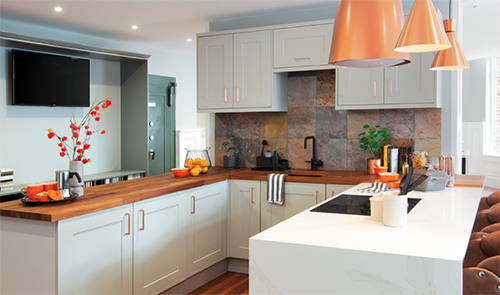 "Open-plan living is bringing the family together once again. Technology has pulled people apart and they spend a lot of time on their devices and not engaging with the family. We want to start to bring socialising back to the family home."
Sean also feels that the industry is overrun with big organisations that do not deliver on customer service – a trap he has no intention of falling into: "We offer a lot more personal experience. We have heard about fitted kitchens where they have had to be adapted on-site as the initial measure-up was wrong. Some-times there are issues with lead times and kitchens being delivered to site with items damaged or missing, or even entirely the wrong kitchen – in one case we heard of fitters being asked to go back and collect a new set of doors and cut units down to make them fit."
And he knows Niche's target customers won't put up with that. "Where we are, it is quite a diverse client base," he explains. "Regardless of how much a customer is spending with us, we always strive to deliver luxury level customer service as this is a quality that is ingrained throughout our brand".
Sean and Tom's background is in the joinery business. Tom left school and trained as a joiner at Wirral Met College in Birkenhead and Sean followed in his elder sibling's footsteps. They still own a joinery company that specialises in renovations and new-builds in the Wirral and North-West.
Growing team
Tom runs the joinery side of the business, while Sean is permanently based in the kitchen showroom. Sean says that, in the next three to six months, they will be looking into hiring another member of staff to join their growing team and to be based in the showroom so that he can focus solely on liaising with customers and doing the design work.
The kitchen installations are done by their own fitters from the joinery business, but Sean says they would look at bringing in permanent fitters for the kitchens if they need to, which might not be too far in the future. To facilitate that, Sean says they have been looking at taking on apprentices from the college where he and Tom trained.
Sean admits: "It is hard finding retail fitters that can fit to the standard we want. Anyone can fit a kitchen, just screwing a few boxes to a wall, but it is hard to fit one well, and finish it well and make it look a million dollars. That is something we strive for, regardless of the price you pay. We want to give people a kitchen that is fitted to the highest possible standard it can be."
So how difficult was it setting up Niche in between all the lockdowns?
Sean says it wasn't too bad as they had the whole of November to prepare for December. He adds: "It affected us more going into January, as we had to use Zoom calls and have socially-distanced consultations in clients' homes, or in their gardens – although it was a bit cold for that! Ninety per cent of the time, it was over Zoom calls. Although as long as we followed the government guidelines, there wasn't really an issue with meeting face to face. We got through it and everything seems to be looking up. You have to adapt and cope with whatever is thrown at you."
Prior to opening, they started by running Instagram and Google ads as well as roadside signs with their name and contact details.
"We have an enquiry form on our website," adds Sean, "so people could fill that out as a starting point. Nine times out of 10, I would be sat at the back of the showroom replying to people from my laptop, getting covered in dust as people were working around me to fit out the showroom. But we just had to keep going. That managed to get us through 2020 to where we are today."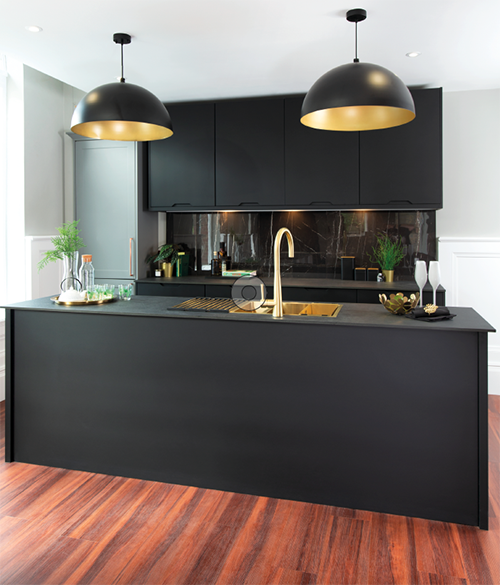 Booked up
Now, he says the order book is looking "amazing". "This year has really picked up for us," he explains. "We are always booked up three months in advance. The joinery side is really busy as well so, by working three months ahead with kitchens, we can fit them in with the joinery schedule. We use our joinery team to fit our kitchens too and that works really well. The joinery business is still running and we will always keep that going. We have got the retail side to where we want it to be and it is ticking over nicely."
Sean says the company is growing "at a brilliant rate" and that as the contract side gets busier, they would take on subcontractors rather than turn away business. He adds that they would also like to take on bigger projects: "We would potentially, like to get on to bigger building sites to fit kitchens into maybe 40 to 50 units, which would be a major focus for us. It would not affect the domestic side of the business, but that is something we'd be keen to branch out into. Every home deserves a Niche Kitchen."
The typical kitchen sale for Niche is between £10,000 and £50,000 and they aim to average around three kitchens a month.
From the very start, Niche set up as a Signature retailer for BA's Blossom Avenue kitchens. This means they also receive support with showroom branding, marketing, launch activities and appear on the 'find a retailer' section of the consumer-facing Blossom Avenue website.
Sean explains: "We were over the moon to be accepted as a Signature store and to be given an opportunity like this when it is only our first year trading. It means they saw something in us that they really liked.
"It is the only kitchen brand we deal with. If you start to bring another company into the mix, it can get a bit confusing, and as far as we are concerned, simplicity is best. We felt BA would work best for us and we loved everything they were offering. We fell in love with the brand."
The 100sq metre showroom has five displays that reflect what is selling best at the time, with a choice of laminate, granite and quartz worktops from CRL Stone and Magma Granite. Most of the displays are fully working with pyrolytic ovens and HotSpot Titanium boiling water taps. Sinks, taps and appliances are mainly from Caple.
As well as expanding the contract joinery side, would they consider a second showroom?
"We would 100% like to open a second studio," says Sean. "Maybe in Chester or Liverpool. We've got customers who are based in both areas, so if we can take what we've got and take it closer to them, that's what we want to be able to do".