The Samsung support team is back in person to provide its Kitchen Circle retailer network with all the support they need backed up by a range of training and marketing assets online.
At Samsung, supporting our Kitchen Circle retailer network to give the best customer experience possible is what we're here for and, after a year of online training, we're back in person to help you in any way we can. Our experienced teams are here to give you in-depth, end-to-end information, delivering front-end and aftersales support for our products.
As a business, we listen, learn and continuously develop our offer to provide our UK kitchen retailers with strong, focused brand and product support, managed by our Customer Experience team up in Leeds, specifically set up to support our kitchen retailers. We offer simplified and enhanced customer service across our full home appliance suite of products, including our laundry, cooking and refrigeration categories. By using our technology and experience, we provide an informative and engaging service to all our retailers.
Our distributor, Waterline, offers a dynamic way for retailers to access Samsung products quickly, providing display deals and stock when and where you need them, all delivered from three UK multi-delivery points each week. Their Samsung range has been carefully put together to offer kitchen retailers a strong line-up of innovative and exciting products that consumers will be interested in.
We're always improving how our kitchen retailers should talk with the Home Appliance Team, with our end-to-end support via dedicated email functionality now live to complement our existing voice channel. We are also developing an App and Web Chat to simplify and enhance how you engage with us and making the support journey even more flexible.
Our training team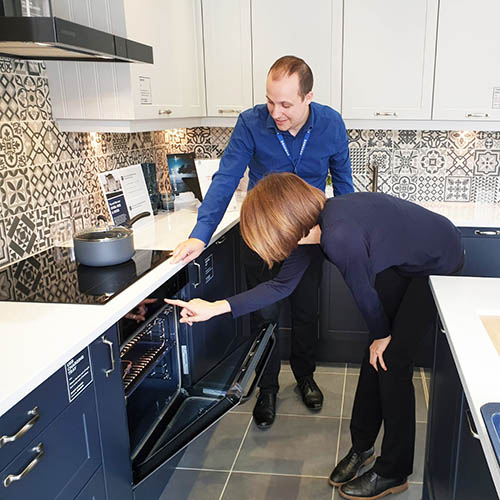 After moving swiftly online at the start of lockdown, we're coming back to in-person training as the country opens up, so we can still be present for you and supply the information you want in the way that's best for you. Our Training Centre in Meadlake, Egham, is designed with your needs in mind and with over 100 years of experience, our award-winning team offers a complete range of flexible training solutions.
From an online, perspective The Samsung Academy (www.samsungacademy.co.uk) has everything you need, with Virtual Classroom lessons to underline the features of our products, livestream sessions on how to demonstrate the benefits of Samsung, and all our content including videos, animation and digital training materials to highlight the features and benefits of Samsung products available to you, whenever you need them.
Our aim is to offer the best support we can to our retail partners, offering innovative learning solutions and making the most of technology to deliver a complete range of training opportunities both in person and online.
Marketing assets 
We have a full range of dynamic assets and product support, with videos, lifestyle images and specification sheets all designed to help retailers understand our products better and offer customers the right appliance for their lifestyle – all accessible from the Samsung Marketing Cloud for you to download and use as required. Finally, to make selling Samsung premium products even more rewarding, we offer the Samsung Academy Rewards Programme – our incentive scheme where our retailers can qualify for a wide variety of rewards.

Contact One Team at Samsung:
For all enquiries, call: 0330 726 1001
To organise training, email:
[email protected]
For Business Support, email:
[email protected]