To celebrate 25 years of business, British kitchen brand Omega has completed a £20 million investment programme and is also introducing a new 20-year guarantee.
The Yorkshire-based company is continuing to invest and has increased its total site operation to 400,000sq ft and stockholding capacity by 43%, along with a state-of-the-art production facility. Omega's factory output has increased to 17,000 kitchens a year with the production capacity and stockholding to manufacture up to 43,000 kitchens a year.
Back in February, Omega announced a partnership with electrical retailer AO, with the aim of securing the distribution and installation of kitchen appliances in the contracts market, and for faster completion of installations.
The brand has also extended its £1 million kitchen showroom, a move that Omega says makes it the largest, professional business-to-business display area in the UK.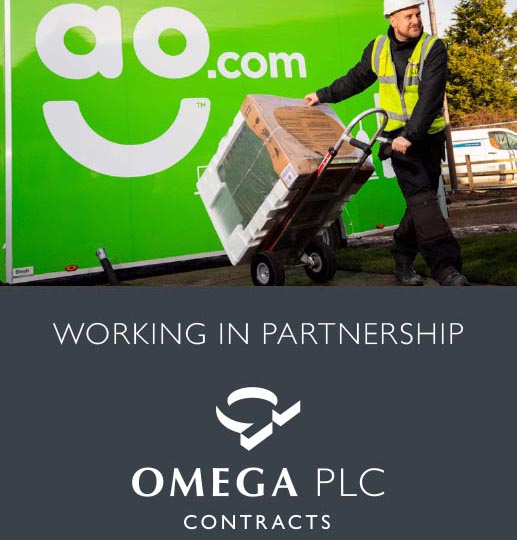 This is in response to the impact on the import of goods from within the EU after Brexit finalisations in 2020. It now has a 13,000sq ft showroom with more than 60 full kitchen displays and Inspire Zones, which showcase real home settings, including a full working kitchen, living, dining and workspace area.
The business also offers an online kitchen visualiser and virtual showroom (accessed via Omega's website), which allows users to navigate through a 3D representation of the showroom.
Omega chief executive Simon Barber said: "As we celebrate 25 years at Omega, I feel incredibly proud that we are going forward into the next 25 years in such great shape. Despite the current challenges facing the industry from material, skilled labour and appliance shortages caused by Covid and Brexit, Omega continues to deliver high-quality, innovative, made-for-life kitchens, on time and in full. All of our employees have demonstrated huge passion and dedication to their jobs and have helped ensure we are ready for business as new home sales re-gather momentum and developers increase their build programmes."
Talking about the new 20-year guarantee, Omega sales director James Bishton commented: "Omega cabinets and kitchens are the highest quality, and the new extended guarantee will assure consumers that they're made to be lived in and enjoyed. The guarantee includes all cabinets from Omega's four brands and covers any defects in materials or workmanship; with the assurance of replacements free of charge for a full 20 years. Quality guarantees such as this, as well as the widest range of kitchens, consistently on time deliveries, and excellent customer service, means that Omega ticks the box at every point to ensure our partners and customers are 100% satisfied."
Barber added: "The team behind Omega have been at the heart of the company's achievement, adapting to ways of working and continuing to produce exceptional quality products. The nearly 400-strong team predominantly from the South Yorkshire area have been the backbone of the company's success. This has been acknowledged with a further pay increase for all employees. We are proud that everyone at Omega is paid well above the Real Living Wage. Careful forward planning throughout both Brexit and the global pandemic has meant that the company has increased performance throughout 2020 and continues to do so for 2021."
Founded in 1996 by Sir Bob Murray, Omega now designs, manufactures, and markets furniture brands Sheraton, Mackintosh, English Rose and Chippendale.