Arbor Lane Interiors makes bespoke furniture for around 20 retailers and has recently expanded its workshop space to meet growing demand. Chris Frankland talks to managing director Danny Wood, who also owns retailer Burlanes, which is why he says he understands perfectly what it is that retailers need from a supplier.
Offering a good service to their retail clients is crucial for manufacturers. But there is one good reason why Arbor Lane Interiors in Kent can claim to have an edge – managing director Danny Wood also owns and runs Burlanes Interiors, which has two retail shops in Sevenoaks and Chelmsford.
"Having my own retail outlet keeps me in the game," Wood explains. "That's where I cut my teeth and I think that's what puts me in a great place to provide a manufacturing service to retailers. I know what it's like to be on the receiving end of suppliers – how it is to be a retailer, which I think a lot of suppliers do not understand. I have got quite angry with a few lately, trying to explain that it is us out there selling it, us with the shops, us paying the business rates and rents to sell their products, and a lot of the big boys fail to understand that."
And that service includes putting things right if there should be a problem. He adds: "If we make a mistake, we will get it sorted there and then. But if they [the retailer] make a mistake, which everyone does, and they need something, I will do my best to sort it within seven days. Whereas if your supplier is in Germany, it is more like an eight-week turnaround."
Wood set up Arbor Lane Interiors in 2019 to provide bespoke kitchens for Burlanes and any other retailers looking to add that option to their portfolio. It offers retailers a range of bespoke furniture that they can brand and sell as their own. As well as the two Burlanes showrooms, it supplies 27 retailers, of which around seven have displays. Wood says Arbor Lane will dictate to retailers that they need to have 'x' number of displays.
Support packages
Wood explains how at the beginning of 2019, "before we'd even heard of Covid, a manufacturer sadly went into administration and we picked up a lot of their people who then shifted to selling our product". Arbor Lane also supplies to interior designers.
The company offers various support packages for its customers. Its Design Partners tend to have sample doors and a stand or sample cabinet and sell from that, and they get access to three sets of imagery from its website. Its Display Partners, who have a display of Arbor Lane furniture in their showroom, get access to all available imagery, help with social media and a monthly newsletter about what is trending. Marketing support is also offered through its PR and marketing manager Lucy Riley.
As Wood reflects: "The biggest thing I did that changed me from being an independent to what I am now is taking on a marketing person full-time. That was the best thing I ever did."
Arbor Lane moved into bigger, 10,000sq ft premises in September 2020. But it didn't have to move far, as Wood recalls: "I found a unit, spent thousands on solicitors' fees and such like, getting it all ready, and at the very last minute our electrician discovered there wasn't the kind of power supply to the building that they told us there was, so we couldn't take it. But then, our neighbour in the unit next door, which was a bakery supplying schools, just called it a day because of Covid and we signed a deal with the landlord straight away. That was the month of the first lockdown in March 2020."
A new mezzanine level was installed in December, where Arbor Lane plans to fit four new spray booths. By January this year, the facility was fully operational.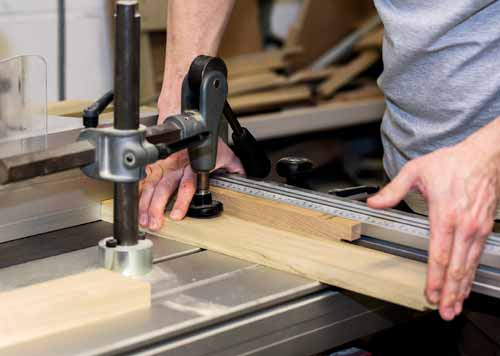 Growing demand
Why the move? Woods tells me that they were predicting a 25% increase in orders over the next 12 months. And, as Woods reflects, there have been several spikes in demand: "I liken it to having three Januaries in the past two years. January 2020 was a normal January, then we had the first Covid lockdown and that was another 'January', when there was a massive surge in demand. This year January moved to when we came out of lockdown in April."
Talking of Covid, did that have an effect on production capability?
Woods says: "It would have done, but because we took the extra space, we had room to spread people out, so I never shut the production facility. I had people whose projects had started before the lockdown and they needed their kitchens. So we took on that extra space at just the right time. We kept going all the way through."
And in terms of keeping production rolling, that extra space brought another bonus, as Wood recalls: "The supply chain for panel products, the likes of Egger and Kronospan, has been all over the place. That has been a big problem. But I am really lucky. My production manager Colin Wright has been in the industry for a long time and he is friendly with people at the timber suppliers, who phoned him to say there
were shortages coming up. And because we only do oak and the walnut, we could buy pallets and pallets of it. It was lucky that we had taken the extra space, so we could store it."
And so how bespoke is what Arbor Lane is offering? Wood elaborates: "It is an in-frame product. We don't do lay-on. It has 45mm rails and stiles and the doors are 80mm and that is set, because that is what my machines are set up to do. You can have any dimensions, so long as they are within manufacturing tolerances. You can't make a door beyond 650mm because it will just bend. But if you want a cabinet that is 882mm, we will make
it 882mm."
Arbor Lane's bespoke offering comprises furniture with shaker doors, cock-beaded or staff-beaded. Cabinets – Wood hates the word 'carcass' – are offered in MDF in oak or walnut. And they can finish them in any colour the retailer or client wants. Arbor Lane uses Mylands paint, "which I believe is the last family-owned paint firm in London and they've got the royal crest", adds Wood.
He warns about taking bespoke too far, however.
"One of the problems with bespoke is that you can go mad at the beginning, but you have to be good not to catch yourself out with a door smashing into a radiator. Kitchens are modular and they have been designed that way so people can sell them pretty easily. But designing them and selling them is a difficult game.
"Over the years, they have been refined into this modular system so that people can sell them easily and get stopped from making mistakes. But in the world of bespoke, if you promise the earth, you have got to dot every I and cross every T."
Bespoke 
And when retailers send their orders in, Arbor Lane will then produce a CAD drawing, along with any feedback on what would and wouldn't work. "After a while," says Wood, "they get the hang of it and rein in the amount of bespoke-ness." Once a client signs the drawings off, Arbor Lane quotes a lead time of around six weeks.
At the time of our interview this summer, Woods says the workshop was running at 110% and so he predicted some overtime and weekend shifts would be needed from the 27 staff he employs there.
As well as kitchens, Arbor Lane also produces furniture for bedrooms, bathrooms and any other room in the house, such as libraries, boot rooms and home offices.
"This is something that I don't think a lot of retailers are picking up on," says Wood. "Burlanes sells lots of offices, bedrooms and libraries, and boot rooms and other projects in the house. The retailers I have talked to are only really placing orders for kitchens. They don't seem to be getting on board with bedrooms and offices. And they're easy. You haven't got tilers, plumbers and all the other trades. Say you've got a kitchen where the cabinetry is £20,000. You could sell three offices at £7,000 and doing those for the same money is easier than a kitchen with lighting, underfloor heating and appliances – 'cos," he laughs, " they're on the missing list at the moment, aren't they!"
As well as retailers, Arbor Lane also supplies some developers – usually projects of about two to 10 houses, but mainly twos, threes and fours. It has also supplied care homes, which, Wood reflects, was "really promising", but Covid has taken its toll on that.
Wood also takes sustainability seriously. All waste wood and offcuts are burnt in a woodburner to heat the workshop and Arbor Lane uses only FSC-certified products. It also belongs to the National Forest Regeneration Scheme. For every project it sells, a tree is planted. It is also working with a developer on a kitchen where none of the materials used contain VOCs (volatile organic compounds).
So what of the future for Arbor Lane?
Wood says that it will be a case of getting the workshop where he wants it to be, fitting the new spray booths and investing in some new machines, and also growing the company on a professional basis in terms of HR practices. He would also like to extend its product offering to include banquette seating, which, he says, lots of clients are asking for.
And as for Burlanes, he says he has no intention of expanding that business. As he says: "Having two retail showrooms is enough."