Omega CEO Simon Barber explains to Rebecca Nottingham how, despite the challenges of Brexit and Covid, the British manufacturer is set to achieve £50 million turnover this year making it stronger than ever.
Nobody could have predicted the catastrophic fallout from the Covid pandemic but, thanks to some strategic forward planning ahead of the Brexit deadline, Omega's management team were, not only, able to navigate the pandemic but even managed to ensure the business made it out the other side in better shape than ever.
Since 2017 Omega, the 25-year-old manufacturer behind the English Rose, Chippendale, Sheraton and Mackintosh brands, has ploughed millions – in excess of £20 million to be more precise – in developing its business to ensure it could continue to deliver what CEO Simon Barber describes as a "first-class" service to its customers.
As part of this major development programme, it extended its HQ in Doncaster, south Yorkshire, with the introduction of a new 84,000sq ft warehouse taking the total warehouse and production facility to over 400,000sq ft so that it could double its stockholding. Further investment into manufacturing and logistics enabled it to guarantee its domestic supply chain serving both retail and its large contract customers, should there be any disruption from Brexit.
What this planning also, inadvertently, meant, is that Omega could maintain order fulfilment, deliver remedials on a next-week basis and ensure customers received orders on time, and in full, throughout the pandemic.
"Preparing for Brexit was obviously a factor in our plans, but it was really our ambition to grow that drove all of this investment," he explains. "Also, having got a warehouse, it was about having the foresight and planning to be able to fill it and keep it stocked."
Planning ahead
"I'd like to say it was part of the plan, but it just turned out to be really good timing for Covid. With Brexit coming, we could foresee potential issues with elongated supply chains so, to help protect our retailers and developer clients ahead of Brexit, we took the decision to lay down extra stock to ensure service levels remained high. We laid down the plan for Brexit, but it also held us in good stead for the pandemic."
As devastating an experience as Covid was, Barber's positive reflection on the situation is that it gave him and his management team – which includes retail sales director, James Bishton [see box out on page 33] – valuable time to take stock of the business and look at areas that could be improved further to increase efficiency.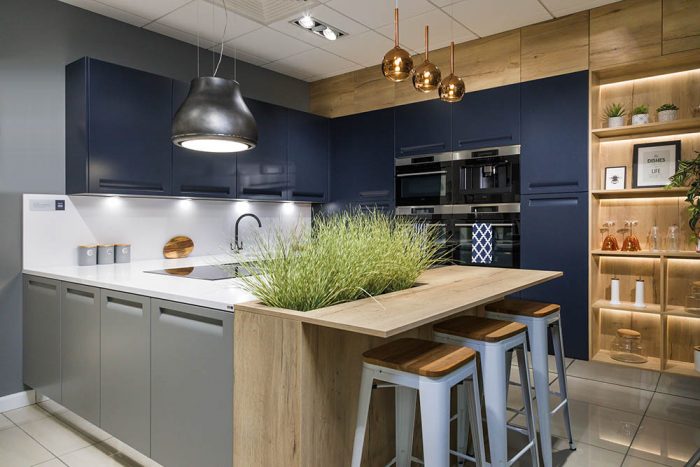 "We used that period very constructively and came out of the Covid pandemic even stronger than we went into it," Barber says. "As we sit here today, I'm very pleased with the performance of the business. We're showing strong, double-digit growth this year and are on target for £50m turnover. That is quite an achievement, especially considering retailers were closed for large periods of the year and a lot of developments were slowed by labour and materials shortages.
"That said, of course we've experienced issues ourselves. We've suffered the same extended lead times and price increases as other manufacturers. However, the difference for us is that these issues never impacted our customer service because of the stockholding we had. In challenge and adversity is opportunity for the right businesses and the right people and we've been able to capitalise on that and take advantage of it to come out of it all in a stronger position."
As Barber – who has been CEO of the company since 2017 – puts it, stock used to be, "a dirty word" but, with the ongoing disruptions to the KBB supply chain, Omega's ability to hold ready-to-deliver kitchens and components here in the UK has become a strong commercial message.   
"Being able to lay down stock to protect our customer service is one of the benefits of being such a financially stable business," explains Barber. "Stock used to be a dirty word because it ties up cash but, because of the delays to furniture coming into the UK from overseas since the pandemic, it's become a very valuable asset.
"We normally hold £4.5m worth of stock at any one time but, since preparing for Brexit, we've been sitting on £10m. That gives us, on average, a three-month supply of product so, at a time when other suppliers have been extending lead times, we've been able to reduce ours. And, in 2021 when other suppliers are putting prices up, we've been able to hold ours to give our retailers even more certainty."
While undeniably impressive, as Barber explains, Omega's £20m investment programme isn't the only reason the company – which is celebrating 25 years in business this year – is enjoying a period of notable success.
"The Omega business is built on the people – that's central to everything we do," he explains. "As important – if not more important – to the £20m investment we have made in the business is the ongoing investment we've made in bringing the best people on board to help this business be successful now and in the future.
"We also develop the team from within and have a really good staff retention record. The business is 25 years old this year and we're extremely proud to be celebrating that milestone with people that have worked here for 25 years. Obviously as we grow, we're also bringing in new blood, which means new ideas and approaches, which is also good for the strength of the business moving forward."
Omega's £20m investment plan was, according to Barber, the foundation for further growth, but with a network of 400 retailers in the UK already and a fiercely competitive marketplace, is there much room
to grow?
"We've got the capacity to more than double the number of kitchens we're selling at the moment," he says, "but we're not rushing to do that because we'd rather have the right partners and customers, and we'd rather focus on value over volume. There are a lot of people chasing the volume and it's a race to the bottom. We want to maintain our standards, our quality, and our service and that comes at a price but, it [Omega product] is still good value for money and that's our philosophy. We are looking to bring new customers on board, while maintaining the service we give our existing retail partners.
"We have some ambitious plans to double our turnover over the next three years – through all of the sectors [retail and contract] we operate in. We're excited about what's to come. As a business, you never stop improving, but we've put ourselves in a very, very good position to take advantage of the market as it is now."
Barber's optimism for the future isn't just reserved for Omega either. Despite the obvious challenges, he is con-vinced that there are real opportunities out there for independent retailers right now.
"The demand for kitchens is there and will be there for the long-term," he says. "There might be some constraints with fitting and material availability, and we might see a softening in 2022 as the holiday industry opens up again, but they are short-term. There's a fantastic long-term opportunity here for independent retailers – particularly as we continue to see a growth in the value of kitchens in this sector. The volume growth is coming from the nationals whereas, in the independent retail sector, the volume tends to be quite static, but the value is growing – and that's right in our sweet spot, too."