Retail footfall is likely to be severely hit by the Government's implementation of its Covid Plan B, says retail analytics specialist Springboard.
Springboard figures show that in central London and regional cities outside the capital, footfall is already 20% lower than in 2019. It predicts that because of Plan B, footfall in the run-up to Christmas will plummet by a further third to -50% in central London, and to -30% in regional cities.
Said Springboard marketing and insights director Diane Wehrle: "Inevitably, the guidance will impact activity foremost in those locations with the largest number of office-based workers, which are our large city centres, in particular central London, which is already labouring under the pressure of a reduced office population and a lack of international tourism that is so critical in the run-up to Christmas."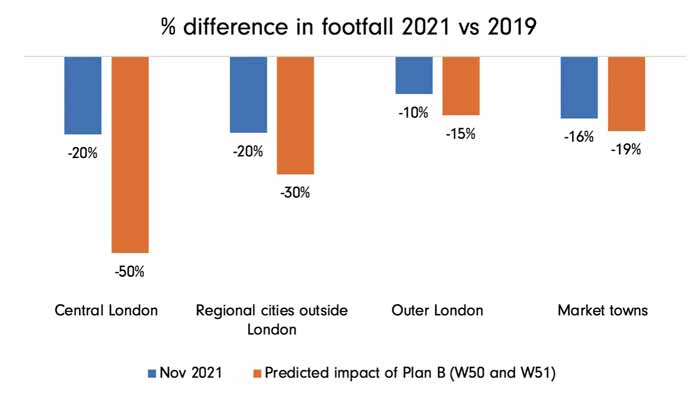 She added: "But it won't only be daytime footfall from office workers that declines. It will also mean that leisure-based footfall that is so prevalent in the run-up to Christmas will also lessen, as the nervousness of visitors means that trips to cities are deferred or cancelled altogether. In the light of this, we predict that the gap in footfall from 2019 is likely to widen once again over the next few weeks to -50% in central London and to -30% in cities outside of the capital."
Springboard predicted that because of Covid nervousness a proportion of retail footfall will be diverted to smaller high streets and retail parks.
On a positive note, the analyst said that may mean that footfall for retail parks, currently 4% below 2019 levels, may improve by 2%.
There may also be an impact on bricks-and-mortar retailers, said Springboard, with more shoppers turning to online for their non-food purchases.
Currently 22% of non-food spending takes place online. Springboard predicts that Plan B may cause that figure to rise by a third to 30%.
Summing up the findings, Wehrle said: "So where does this leave our stores and destinations during the final stages of the most critical trading period of the year? Well, this clearly represents yet another hammer blow to an industry that is still trying to recover from a huge loss of trade in 2020." She continued: "While many retailers benefited from a huge uplift in their online sales last year, for the vast majority this was simply not enough to make up for the loss of store sales – after all, in normal trading conditions pre-Covid in 2019 80% of retail sales were store-based. Perhaps the saving grace for many will have been the awareness and concern of many shoppers around the lack of supply of products, which will have encouraged them to purchase their Christmas gifts earlier this year."