Launched in 2017, AluSplash is Häfele's fastest-growing product. Andrew Billingham, product group manager at Häfele UK, discusses the new Elements collection – inspired by the natural elements – and its benefits to retailers and end-users
Q: Can you tell us more about AluSplash and why it's been so successful?
A: AluSplash is an aluminum-based splashback with a fire-resistant mineral core. This means that unlike typical products, it can go behind a hob, including a gas model, giving a seamless run of colour. Before it was launched, there was no product like it in the industry except tiles and glass that are more expensive and time-consuming to install, and this is one of the reasons for its success.
When we launched AluSplash at the end of 2017, it became the fastest-growing product at Häfele over the next two years. In 2020, sales took a bit of a hit because of the pandemic, but last year we managed to beat our most significant sales year with AluSplash, which was 2019.
Q: What was the inspiration behind the new Elements collection?
A:This range is centred around the natural world, and is based on earth, fire, air and water. It features eight new colours as well as a marble finish. The colours are in demand from our customers and we anticipate them to continue trending into 2022.
The collection features stylish, dark shades like Lava Stone and Midnight Moon, a softer grey shade, Smoked Ember, then a striking Iceberg White. There are several bold colours like Forest Green, Green Mist, Autumn Leaves and Frosted Flora.
We also have the White Carrara Marble that we've launched simultaneously to the Elements range. It's slightly different in style as it has a satin matt finish, but it fits in well with the Elements theme.
Q: How well has the Elements range done during its 12-month exclusive run with certain retailers?
A: We have a great relationship with our retail customers. They really help to drive the sales of AluSplash, telling us what their customers want, so we work closely with several of them on product development. We offered them the Elements collection with a 12-month exclusivity ahead of launching to the rest of the market in the first week of December.
We're getting regular phone calls from customers asking for the new range, so our sales force are out and about even before the launch. We feel that now is the right time to introduce a new range that we can get behind and give a massive push.
Q: What support are you giving retailers in a showroom?
A: AluSplash is a natural seller, but we'll be providing printed and digital brochures and colour samples free of charge to retailers. We also have over 40 sales reps looking to support and inform retailers of all the benefits AluSplash offers their customers. We also work one-to-one with retailers who want to create a display, giving heavily discounted rates.
Q: What are the practical benefits of these panels?
A: We have literature and videos to demonstrate the easy fitting process, and we also have plans for an AluSplash installer accreditation in the future. We would look to get as many fitters as possible enrolled onto the Häfele AluSplash Training.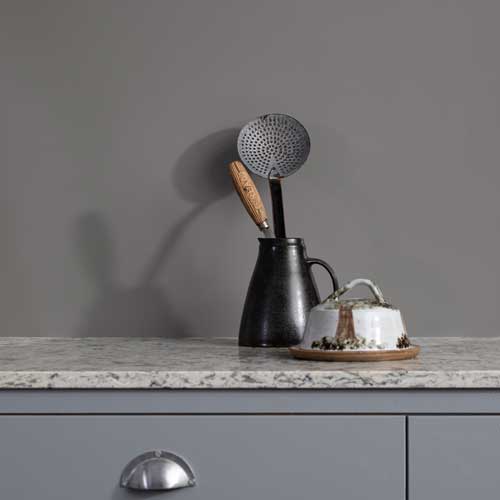 A: One of the main USPs of AluSplash is that it can be V-grooved on the reverse side, and you can bend the panel to give a seamless run of colour without any trims, even if it is fitted around a corner or as boxing.
AluSplash is also easy to maintain, and can be cleaned with water and a microfibre cloth. It has been through rigorous testing for things often spilt on a splashback, like grease and red wine, and always comes up clean.
Q: The Elements collection have a matt finish, why was this texture chosen?
A: The previous range, Elegance, is high-gloss and when we brought in the new Elements collection, we wanted to differentiate the two. With this latest range, we wanted to bring in the feeling of texture, warmth and luxury as it is a premium product and a step up from the original range.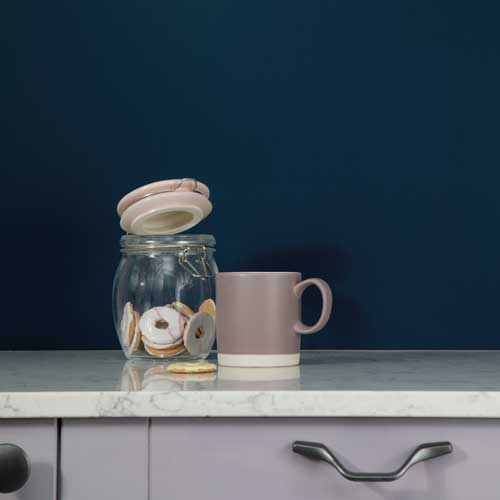 Q: How can designers use these bold colours in their designs?
A: Typically, if a customer wants standard white cabinetry, they can bring the kitchen to life with a bold splashback. Some people aren't adventurous with their cabinet doors, but they will be with the splashbacks. Flipping that on its head, the customer might choose a bold cabinet teamed with a more muted splashback. The Elements collection offers that flexibility.
For more information, please call on 0800 171 2909 or find out more at www.hafele.co.uk