The Competitions and Markets Authority (CMA) has insisted it "still has concerns" over possible breaches of competition law among suppliers and retailers in the bathroom industry and refused to rule out further fines.
However, speaking to delegates at yesterday's Bathroom Manufacturer's Association Annual General Meeting near Derby, the government body revealed that it has now scaled down its investigations.
It hopes recent heavy fines for bathroom supplier Ultra Finishing and commercial refrigeration company Foster Refrigeration for fixing resale prices will act as a sufficient deterrent to other companies.
During an hour-long presentation, the CMA talked through these recent cases and the lessons companies at all levels of the supply chain could learn. It also offered some practical advice on how to stay on the right side of the law, the importance of CMA warning letters, and the steps people can take if they think they may have broken competition law.
"We have deprioritised bathroom cases for the moment but we do still have concerns," CMA assistant project director, Suzanne Carter (pictured right) said. "We haven't ruled out further investigations but we see the Ultra case as a deterrent."
Amanda Adams (pictured left), assistant project director with the CMA, reiterated that bathroom retailers may also be liable in some cases.
"If you enter into an anti-competitive agreement it takes two to tango," she said, "so we are essentially finding that the supplier and retailer agreed on fixing resale prices. Both parties can be found liable, but in these cases we only actually fined the supplier. There are potentially lots of retailers involved, because the policy was applied to the distribution network effectively, but for the purposes of proving the infringement we just focused on the supplier. But we wouldn't necessarily do that in every case."
Adams advised retailers who felt threatened by the policy of a supplier to report the matter to the CMA immediately.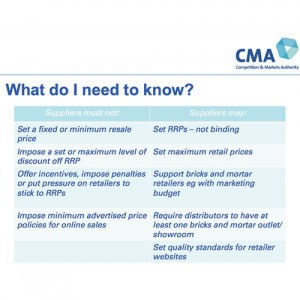 "Unfortunately guilt or culpability doesn't technically come into it," she explained. "So we would say to retailers that are feeling that pressure and worried about being cut off by a supplier to come and speak to us. They can use competition law as a tool and say to suppliers, 'you can't force this price at a given level. Back off or we'll report you to the CMA'."
Explaining why the CMA has, so far, only fined Ultra from the bathroom sector, Adams said: "We take into account the strength of evidence and we had some really good evidence in that case. We thought it would set a really good precedent for the industry. We can't investigate every single practice that is known to us, so from the evidence we received we assess where we want to invest our resources to get an outcome."
The CMA also warned that companies who persist in breaching competition law could expect penalties of up to 10% of annual turnover, and, for individuals, up to five years in prison, director disqualification for up to 15 years, an unlimited fine and damages claims by third parties.
It also provided a list of dos and don'ts for those still confused as to whether or not they were breaching competition law.
"Suppliers must not set a fixed or minimum resale price," Adams explained. "They should not impose a set or maximum level of discount off RRP or offer incentives, impose penalties or put pressure on retailers to stick to RRPs. Nor should they impose minimum advertised price policies for online sales."
However, Adams continued, there were legal ways that suppliers could attempt to protect showrooms from online discounting.
"Suppliers can set non-binding RRPs," she said. "They can set maximum retail prices and they can support bricks and mortar retailers through, for example, giving them a marketing budget. They can also require distributors to have at least one bricks and mortar outlet or showroom and set quality standards for retailer websites."
The CMA concluded its presentation by urging suppliers to take heed of the "large number" of warning letters it had sent to companies in the bathroom fittings sector. "They are sent out when the CMA has reasonable grounds to suspect anti-competitive agreements or practices", Adams said. "We advise companies to carry out due diligence and confirm they've taken action. This may be taken into account in future enforcement proceedings."